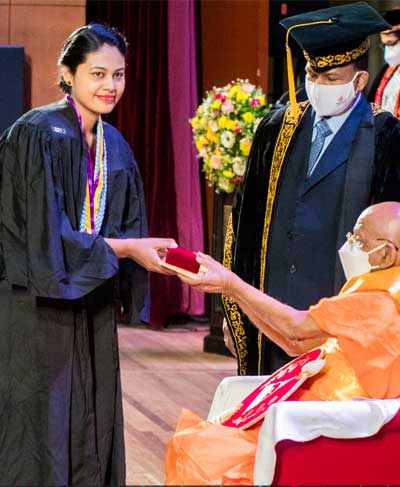 Ceremonial Graduation 2019 – Undergraduate
The University of Colombo conducted its Ceremonial Graduation for the Year 2019 at the Bandaranaike Memorial International Conference Hall on 17th, 18th and 19th December 2021 under the patronage of the Venerable Chancellor, Sasana Keerthi Sri Buddha Sasana Shobhana Venerable Muruththettuwe Ananda Nayaka Thero, with the Vice Chancellor, Registrar, Bursar, Acting Librarian, Deputy registrar Examinations and team of officers in attendance by adhering to the prescribed health and safety guidelines. We are happy to announce that a total of 2668 students graduated for the year 2019 in various study disciplines including Medicine, Science, Law, Arts, Management, ICT, Agrotech & Rural Sciences, Education, Labour Education, Mass Media, Performing Arts and Indigenous Medicine at this event in the presence of the Rector – Sri Palee Campus, Deans of the Faculties, Directors of Institutes, Heads of the Departments and the Senior Student Counsellor.
On the 17th December 2021, the sessions of the Faculty of Arts (Session I and II), Faculty of Education & Institute of Human Resource Advancement (Session III) and the Faculty of Medicine (Session IV) were held. Three sessions were held on the 18th December including sessions of the University of Colombo School of Computing (Session I) and the Faculty of Management and Finance (Session II & III). On the 19th December the sessions of the Faculty of Law (Session I), Institute of Indigenous Medicine & University of Colombo Institute of Agro – Technology and Rural Sciences (Session II) and Sri Palee Campus & Faculty of Science (Session III and IV) were held. Convocation Speeches were delivered by a distinguished guest speaker at each session and among them were, Dr. Kulatunga Rajapakse, Professor Thusitha Abeytunga, Professor Saroj Jayasinghe, Mr. Peter de Almeida, Mr. Ranil Witharana, Venerable Thapovanaye Sutadara Thero, Mr. Majula de Silva, Dr. Sarath Gamini de Silva, Dr. Rohan Fernando, Dr. W.M.W.Weerakoon and Rev. Fr. Noel Dias. The University of Colombo wishes to congratulate the young graduates and their parents and well-wishers who helped maintaining the dignity and decorum of this momentous occasion.
GUEST SPEAKERS