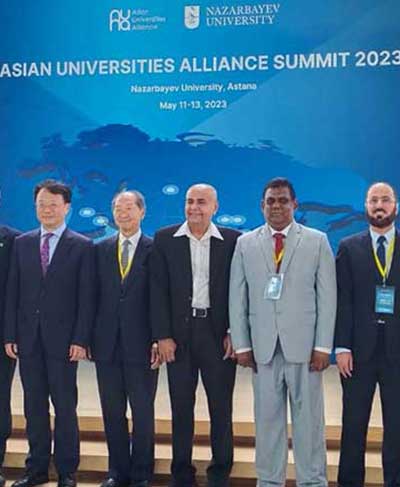 Asian Universities Alliance (AUA) Summit 2023
The AUA which is a consortium of fifteen top-ranked Asian universities held its sixth summit from 11-13 of May, 2023 at Nazarbayev University, Astana, Kazakhstan. The University of Colombo being the only Sri Lankan member of the AUA since its inception in 2017 also took part in this event. The Vice Chancellor, Senior Professor (Chair) H.D. Karunaratne, and Director of the International Office, Professor Sashika Manoratne represented the University of Colombo at the summit.
The other AUA member institutions include Tsinghua University, China, University of Tokyo, Japan, National University of Singapore, Indian Institute of Technology Bombay, India, Pekin University, China, University of Malaya, Malaysia, Chulalongkorn University, Thailand, Nazarbayev University, Kazakhstan, Hong Kong University of Science and Technology, China, King Saud University, Saudi Arabia, University of Yangon, Myanmar, Universitas Indonesia, Indonesia, Seoul National University, Korea and United Arab Emirates University, UAE.
AUA is a creative initiative established with the aim of addressing national, regional, and global challenges through strengthened collaboration among partner institutions. In order to achieve this shared goal, AUA has launched an array of events and programmes that integrate Asian wisdom, including more than thirty cross-cultural study programmes to empower the Asian youth to become change agents of change. Organized annually, the AUA Summit is a high-end delegation meeting that convenes the Presidents, Vice Chancellors, and Provosts of the respective member universities in strategizing the future direction and financial sustainability of the consortium. The Board Meeting which is a closed-door event was held during the first day of the Summit which was followed by a Presidents' Forum with an overarching theme titled 'Shaping Higher Education in an Evolving Asia: Creation, Integration and Innovation'.
The forum consisted of three sessions. The first sub-theme was on reflecting upon the missions of higher education against the backdrop of emerging global challenges such as deepened inequalities, climate change, and the promises and perils of rapid advancement in Artificial Intelligence (AI) technology. The second sub-theme of the Presidents' Forum focused on promoting the mobility of students and scholars within Asia and attracting world talents to Asia. The final sub-theme emphasized the timely need of developing sustainable universities and students' sustainability competence as an AUA commitment to advancing the United Nations Sustainable Development Goals (SDGs). Professor Karunaratne was one of the eminent panelists who elaborated on the importance of universities and SDGs in light of the initiatives and innovative approaches adopted by the University of Colombo.
Media Courtesy: Asian Universities Alliance