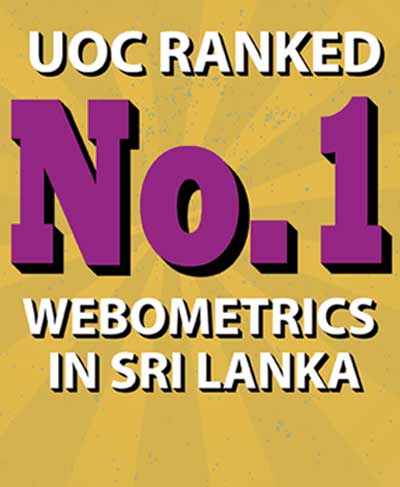 No. 1 among Sri Lankan Universities in the Webometrics Ranking – New edition: February 2022

The University of Colombo is pleased to announce that we have retained the top position among Sri Lankan Universities in the 1st edition of Webometrics Ranking 2022. This classifies university visibility, transparency and indicators of excellence, which illustrates the teaching commitment, research results, the perceived international prestige and links with the community, industrial and economic sectors.

Vice Chancellor's Message.
Dear Members of the Staff, Students and Alumni
It is my pleasure and privilege to share with you the good news that UoC remains as No 1 among Sri Lankan Universities in the world Webometrics Ranking as of 31.1.2022. Every one of you, as well as our predecessors, has played a role in retaining our number 1 spot!. We need to do better, and I am certain that we are on the right track – as per major re-planning done over the past 2 years and the recognition we have received from international stakeholders in Higher Education. Our research and development output in quality has remained extremely vibrant in 2021 despite the COVID19 related challenges.
The impact of innovation and commercialization was also clearly upscaled.
Community outreach activities have been plentiful in 2021.
The challenges you faced that were transformed into meaningful opportunities by you have epitomized UoC's commitment to nurture responsible global citizens with problem solving as their focus.
I extend to you our sincere appreciation on behalf of the central administration, Research and development leads, Library services, Media & Publicity and the highly committed Academic Publication division and the Network Operations Centre (NOC).
Stay safe and well.
I look towards your best commitment to take UoC to the next level in 2022!
Professor Chandrika N Wijeyaratne
Vice Chancellor