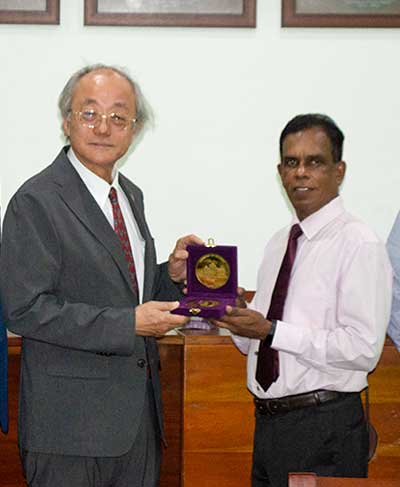 A Courtesy Visit by the Asian Institute of Technology, Thailand
A delegation from the Asian Institute of Technology (AIT), Bangkok, Thailand visited the University of Colombo on 5th July 2023 to explore possible avenues for collaboration between the two institutions. The Asian Institute of Technology (AIT) is an international postgraduate institution, focusing on engineering, environment, and management studies. The delegation comprised Professor Kazuo Yamamoto President, AIT, Dr Roger Levermore, Vice President for Development and Dean, School of Management, Mr Sanjeev Jayasinghe, Executive Director, Advancement & Alumni Affairs and Ms Sirikate Owasit, Senior Advancement officer, office of Advanced & Alumni Affairs.
The meeting was chaired by the Acting Vice Chancellor Professor M.P.P. Dharmadasa. The officials from the University of Colombo included Dr Prathibha Mahanemahewa, the Rector of the Sriplaee Campus, Professor Prasad Katulanda, the Acting Dean of the Faculty of Medicine, Professor Ranjana Piyadasa, the Dean of the Faculty of Technology, Professor Upul Sonnnadara, the Dean of the Faculty of Science, Professor Jagathpriya Weerasena, International Office representative from the IBMBB and Professor Sashika Manoratne, the Director of the International Office.
Underscoring the AIT's commitment to digital transformation and advancement of the Sustainable Development Goals (SDGs), Prof. Yamamoto emphasized the possibility of offering staff capacity-building programmes and study courses on climate change and environmental engineering during the discussion. In response, the Acting Vice Chancellor, as well as the Dean, Faculty of Management and Finance, Prof. Dharmadasa and the Rector, Deans and Directors, shared the flexible and customized postgraduate programmes and research opportunities offered by the University of Colombo on their respective fields. The potential areas of interest were mostly in Business Administration, Climate Change, Sports Medicine, Healthcare Sciences, and Environmental Engineering.
Moreover, the AIT officials expressed their interest in providing opportunities for academic staff to pursue their higher studies at AIT. Meantime, they highlighted the possibility of securing funding, especially via the Asian Development Bank (ADB) in offering scholarships for the academic staff. As a start, the delegation was interested in organizing study tours and webinar series for the Executive MBA programme offered by the Faculty of Management and Finance. The meeting concluded with a consensus of both parties agreeing to enter into an MoU to promote postgraduate opportunities incorporating the possible collaborative avenues discussed.