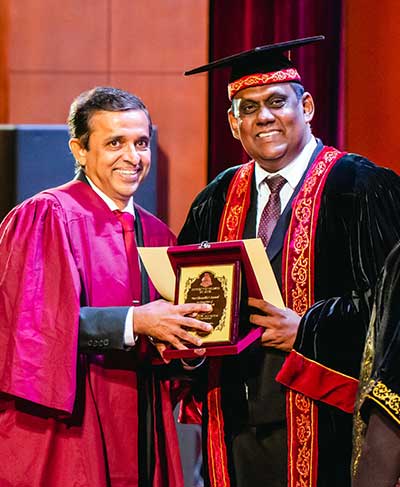 Vice Chancellor's Awards for Research Excellence 2020
The Vice Chancellor's awards for Research Excellence acknowledge academic staff members who make contributions to the University community through their outstanding research works. This year, six awards have been re-framed by the following recipients during the Postgraduate Convocation 2020 on the 12th of October 2022 at the Bandaranaike Memorial International Conference Hall.
K. M. Nalin de Silva is the Chair Senior Professor and the Head of Chemistry at the University of Colombo, Sri Lanka. He obtained his B.Sc. (Chemistry, First Class) from the University of Colombo, and PhD from the University of Cambridge, UK. He has gained postdoctoral experience from University of Cambridge and Louisiana State University, USA. He worked as the Science Team Leader in Sri Lanka Institute of Nanotechnology from 2012-2019. He has published 100 Science Citation Index research papers and four US patents and two local patents. His present h-index is 31. He won the Presidential Research Award for ten consecutive years and a National Research Award presented by National Research Council (NRC) and National Science Foundation (NSF), Sri Lanka. He was also named 'Young Scientist of the Year' in 2004 by The World Academy of Science (TWAS) and NSF. He received the Vice Chancellor's Award for Research Excellence in 2017. He was a member of the National Nanotechnology Committee and Chairman of the National Nanotechnology Research Panel at NSF. He was also the Chairman of the National Committees for Basic Sciences and Technology at the NSF. He is a Fellow of the Royal Society of Chemistry, UK.
Deepika Fernando is a Senior Professor and Board Certified Specialist in Parasitology. She joined the Department of Parasitology as a Lecturer in 1995 and has held many posts in the University since, including the Chairperson of the Research and Higher Degrees Committee. She has an impressive track record on malaria research – having carried out some seminal work for her PhD as a WHO/TDR grantee, on "The impact of malaria on the cognitive performance of the school child". She also holds a Diploma in Medical Microbiology and an MD in Medical Parasitology from the Post Graduate Institute of Medicine, University of Colombo. She completed her post-doctoral training at the Wellcome Trust Centre for Human Genetics, University of Oxford, UK.
Prof. Fernando has over 135 publications in peer-reviewed journals and 2762 citations with an H-index of 20. She has received numerous research awards including the President's award for excellence in research on 15 occasions, University of Colombo Award for Excellence in Research in 2006 & 2017 and the CVCD- Excellence Award, which is the highest research award that can be bestowed upon an academic in the country, for the most outstanding young researcher in health sciences for the year 2006.
Since 2008, she has played a significant role in developing the research capacity with regard to malaria in the country by supervising several postgraduate research students while securing highly competitive grants including funding from the Bill and Melinda Gates Foundation and Global Fund to fight AIDS, Tuberculosis and Malaria. Prof. Fernando contributed significantly to the preparations for WHO certification of the country for malaria elimination in 2016. She is a key member of the Technical Support Group that was established by the Ministry of Health for the elimination of malaria and now serves as an advisory body on the prevention of the re-introduction of malaria.
Professor Tharusha N Gooneratne is Chair Professor of Accounting and the Coordinator of the Doctor of Business Administration (DBA) Programme in the Faculty of Management and Finance, University of Colombo. She has previously served as the Head of the Accounting Department and as the Coordinator of the Master of Business Administration (MBA) in Finance Programme in the Faculty.
She holds a First Class Honours degree in Bachelor of Business Administration (BBA) and a Master of Philosophy degree from the University of Colombo. She was awarded a scholarship based on the results of the First Year Examination in BBA and the Aitken Spence Gold Medal for Management Accounting. She obtained her Doctor of Philosophy degree from La Trobe University, Australia, and received the Timely Completion of Thesis Award for her PhD. She is a fellow member of the Chartered Institute of Management Accountants (CIMA), UK, and was awarded the B.R. De Silva Memorial Prize for the Best Performance in Sri Lanka in Strategic Financial Management.
She has published widely in leading international journals in the area of accounting, authored/co-authored several book chapters and books, and received numerous awards for research excellence locally and internationally. This includes the Vice Chancellor's Award for Research Excellence in 2019, the Senate Award for Research Excellence in 2016, 2017, and 2018 by the University of Colombo and the Chartered Institute of Management Accountants (CIMA) Research Excellence Award in 2020. At the Annual Emerald Literati Awards, her co-authored paper won the Mary Parker Follet Award for Outstanding Paper published in Accounting Auditing and Accountability Journal (AAAJ) in 2013 and another co-authored paper published in the Journal of Applied Accounting Research (JAAR) received the highly commendable paper award in 2018. She is an editorial board member and reviewer for many local and international journals. She has also been facilitating research methods courses/workshops, supervising dissertations/thesis, and has been serving as a research examiner at different universities and institutions at the undergraduate and postgraduate levels.
Prof. Sudath Shirley Pathmasiri Warnakulasuriya is the Professor in Nursing and Dean of the Faculty of Nursing of the university of Colombo. He entered the nursing profession in 1987. He holds a BSc with second class upper division Honours in Nursing from the Open University of Sri Lanka, a Master of Science in Nursing from the University of Adelaide in Australia, and a PhD from the University of Sri Jayewardenepura.
Professor Warnakulasuriya holds several firsts in the field of nursing. He is the first Sri Lankan nursing professional to hold a PhD from a Sri Lankan University. He is the first Sri Lankan Nursing Professional to have been appointed Professor on merit. He is also the first Sri Lankan nursing professional to have been elected a Dean in a Faculty.
His academic life Prior to joining the University of Colombo included service in the National Institute of Health and Social Sciences in the Republic of Seychelles from 2003 to 2005 and in the Faculty of medical sciences in the university of Sri Jayewardenepura for 12 years.
Prof. Warnakulasuriya has received 16 research awards including three Presidential Awards for research from the government of Sri Lanka and three professional awards for his contribution to the nursing profession from professional associations including the prestigious "Florence Nightingale Lifetime Award" awarded by the Sri Lanka Nursing Association. He has an h-index of 10 and his work has been cited more than 800 times.
He is the current President of the Sri Lanka Nurses Association (SLNA) and he represents the higher education sector in the Sri Lanka Nursing Council (SLNC). He had been an exco-member of OPA from 2008 to 2018. He is a member of two scientific steering committees established by the International Council of Nurses (ICN), in Geneva, Switzerland. His research interests are nursing education, aged care, and work and health.
Professor Pathirgae Kamal Perera graduated from the Institute of Indigenous Medicine, the University of Colombo in 2003 with honours, obtaining distinctions in Obstetrics and Gynecology in Degree of Bachelor of Ayurveda Medicine and Surgery. He completed his Master's Degree to PhD in Pharmacology at China Pharmaceutical University, Nanjing, China, and was certified as a Pharmacologist in China. He specialized in Pharmacology &Therapeutics, and Immunology. He has been certified and trained in Pharmacovigilance and Drug Safety in the WHO Collaborating Centre of Uppsala Monitoring Centre (UMC), Sweden. Further, he obtained post-doctoral training in clinical drug development and achieved the Diploma in Research & Development of Products to Meet Public Health Needs, Nagasaki University Japan. Currently, he is a full member of the British Pharmacology Society in the United Kingdom.
He joined the Institute of Indigenous Medicine University of Colombo in 2006 as a Probationary Lecturer and subsequently was promoted to Senior Lecturer grade I. He was promoted to Professor in Ayurveda Medicine in 2020 as the youngest who was promoted to Professor in Ayurveda Medicine in Sri Lanka. He also serves as an honorary consultant Physician at National Ayurveda Teaching Hospital in Colombo. He extends his service globally as a Visiting Professor at the Management and Science University in Malaysia. Professor Perera, served as a senior consultant to the World Health Organization on a project on "A review of traditional medicine research in Sri Lanka: 2015–2019" and a Project on "intellectual property rights (IPRS) and trade in traditional medicines (TM) in Sri Lanka, 2015"
He is a leading clinical researcher in the fields of herbal pharmacology and immunology, Ayurveda medicine, traditional medicine, and integrative medicine in Sri Lanka. He together with his students and colleagues has been the recipient of awards for research excellence and innovation at university, national and international levels including the NRC Merit Awards, Vice Chancellor's Research Award in 2016, and University of Colombo Senate Research Awards in 2016 and 2019.
Apart from supervising undergraduate research, he has supervised 20 research degree students (08Ph.D. and 02MPhil, 04MD(Ayu), and 06MSc research thesis. Professor Perera has over 70 original research publications in Science citation indexed and refereed journals, 125 abstract presentations, 04 books, 07 book chapters in international scientific books, 06 commissioned reports, and 04 herbal product innovations, and commercialization. Further, he was involved in Editorial works and as a reviewer for Peer-reviewed International Journals, and currently, 71 reviews are verified by the Web of Science/ Publons.
Sameera R Samarakoon is a Professor in the IBMBB University of Colombo. He is also working as the acting chairperson of the Business Development Unit at the same institute. He obtained his PhD in 2014 from the University of Colombo and completed a short postdoctoral fellowship at the University of Pittsburg USA in 2014. In addition, Prof Samarakoon completed his master's degree from IBMBB, University of Colombo on Molecular Life Sciences in 2008. Prof. Samarakoon's current research focuses on the development of anti-cancer natural therapies andthe development of solutions for selected non communicable diseases. He has established cancer stem cell research first time in Sri Lanka in 2013. He has obtained several national and international grants for his research. Prof Samarakoon has supervised about 23 MSc and 2 PhD students and is currently supervising seven PhD/MPhil students. Prof Samarakoon has received several national and international awards for his research including Presidential Awards in 2014, 2015 and 2016, NRC merit awards in 2013, CVCD Excellence Award for most outstanding young researcher In the fields of Biological Science/Agriculture/Allied Science in 2018, Hiran Tillelerathne Special Awards in 2014, Award for the best postgraduate (PhD) research in Sri Lanka organized by SLAAS in 2014, Vice Chancellor's Award- for the research excellence in 2017, Senate Award for Research Excellence in 2016, 2017, 2018 and 2019, and NSF Media Award (commendation) in 2019. He has authored about 62 international peer-reviewed publications and has authored 100 presentations at national and international conferences. Further Prof Samarakoon is collaborating with leading private industry partners and has introduced some products developed at IBMBB. He is also extremely active in popularizing science and research in Sri Lanka.