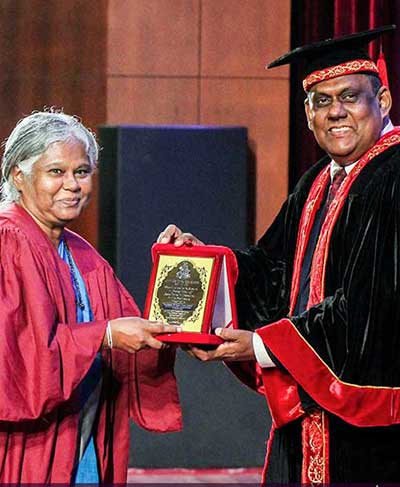 Vice Chancellor's Awards for Research Excellence 2019
The Vice Chancellor's awards for Research Excellence acknowledge academic staff members who make contributions to the University community through their outstanding research works. This year, Seven awards have been re-framed by the following recipients during the Postgraduate Convocation 2019 on the 29th of July 2022 at the Bandaranaike Memorial International Conference Hall.
Professor Shiroma Handunnetti currently holds the Chair of Immunology at the Institute of Biochemistry Molecular Biology and Biotechnology. Prof Handunnetti was the Director of IBMBB from 2015 to 2021. Prof Handunnetti holds a BSc (Hons) degree from the University of Kelaniya and a PhD in Immunology from the University of Colombo. She commenced her career as a researcher at the Malaria Research Unit, Department of Parasitology, Faculty of Medicine, University of Colombo in 1983. Dr Handunnetti joined the IBMBB as a Senior Lecturer in Immunology in 2005. She was appointed as a Professor in Immunology in 2015 and as the Chair Professor of Immunology in 2018. Her current research areas include Pathogenesis and Development & testing of Immunodiagnostics for Infectious Diseases, Anti-inflammatory and Anti-allergy Drug Discovery, Immunogenetics, Characterization & Immunodiagnosis insect venom Allergy.
Prof. Handunnetti has supervised 20 PhDs, and 2 MPhil and currently training further 9 MPhil/PhD students. Since, 2005 onwards, she had supervised 50 master's Research studies and currently supervising 4 MSc studies. Prof Handunnetti has received many awards for her research including 10 Presidents Research Awards and 3 NRC Merit Awards, SUSRED Award from NSF in 2014 and in 2017, the NSF Award for Research Excellence in Health Science in 2017, Vice Chancellors Research Award in 2015 and University of Colombo Senate Research Award in 2016 and 2017.
Prof. Handunnetti is the immediate Past President of the Allergy and Immunology Society of Sri Lanka and a Fellow of the Institute of Biology, Sri Lanka. She has served as a member of the Technical Advisory Committee of the Roll Back Malaria programme in Sri Lanka and a member of the NSF Biotechnology Committee. She has published extensively in peer-reviewed indexed journals and has an h-index of 29 and an i-10 index of 50.
Senior Professor E.R.H.S.S. Ediriweera was educated at Visakha Vidyalaya, Bambalapitiya. She obtained a Diploma in Ayurveda Medicine and Surgery (D.A.M.S) with an honours pass from University of Colombo, a Doctor of Medicine (Ayu) in Kayachikithsa with specialization in Panchakarma from Banaras Hindu University, India and PhD from University of Peradeniya. Professor Sujatha Ediriweera was accredited as a teacher in Higher Education by Staff Educational Development Association (SEDA), the United Kingdom in 2000.
Professor Sujatha was a medical officer of the Department of Ayurveda since 1984 and joined the University of Colombo as an Assistant lecturer in 1990. She was appointed as a Professor and Senior Professor in Ayurveda in 2009 and 2017. She is the first Sri Lankan female to be appointed as a Professor and Senior Professor in the field of Ayurveda. She served as the Chairperson of the Board of study (Ayurveda) for the 2012/2015 MD (Ayu) programme and Ethics Review Committee, Head of the Department of Nidana Chikithsa, and various other academic and administrative positions at the Institute of Indigenous Medicine. She was the Consultant physician in Panchakarma and Kayachikithsa since 2004 at Ayurveda Teaching Hospital, Borella. Professor Ediriweera is a visiting lecturer in Panchakarma at University of Jaffna. She was also a visiting lecturer in Kayachikithsa at Gampaha Wickramarchchi Ayurveda Institute. Senior Professor Sujatha Ediriweera teaches and supervises undergraduate and postgraduate students. She has published over 260 abstracts and research papers in local and international seminars and journals. Professor Ediriweera is a chief editor and member of the editorial board of several local and international indexed journals. She is a receiver of 'The Vice Chancellor's Award For Research Excellence' in 2018 and 'Senate Awards for Excellence in Research -2018 (Open Category)' in 2018.
Professor Senaka Rajapakse is Chair Professor of Clinical Medicine, University of Colombo, and is currently Director of the Postgraduate Institute of Medicine. He graduated with First Class Honours from the University of Colombo in 1993, with eleven distinctions, winning many awards including the Andrew Caldecott Gold Medal for the Final MBBS. He has the MD and MRCP(UK), a Fellow of the Royal College of Physicians (London and Edinburgh), and a Fellow of the National Academy of Sciences Sri Lanka. He is past president of the Ceylon College of Physicians. He has over 150 publications in peer-reviewed journals, with an H-index of 38.
He is joint editor of the Ceylon Medical Journal. He has received numerous President's Awards for Research, the University of Colombo Research Award in 2012 & 2015, the Vice Chancellor's Award in 2016, the CVCD Excellence Award for the Most Outstanding Senior Researcher Award in Health Sciences in 2016, and he is listed among the top 2% of researchers in the world in his field.
Professor Vithanage Pujitha Wickramasinghe graduated from the Faculty of Medicine, University of Colombo in 1996 with second-class upper division honours, obtaining distinctions in physiology and biochemistry. He completed his MD(Paediatrics) in 2002 and obtained his PhD from University of Colombo (2010). He received training in Clinical Nutrition at University of Queensland, Brisbane, Australia (2003/04) and management of post-liver transplant in children from Bergamo, Italy (2010/11). He joined the Department of Paediatrics, University of Colombo in 1998 as a lecturer, and was promoted to Senior Lecturer in 2004. He was elevated to Professor by merit in Paediatrics in 2009 and promoted to Senior Professor in 2017. He also serves as an honorary consultant Paediatrician at Lady Ridgeway Hospital for Children, Colombo.
Professor Wickramasinghe has more than 23 years of experience in undergraduate teaching and 16 years as an examiner. He has been a postgraduate trainer for 14 years and examiner for 12 years for many courses of PGIM, including Paediatrics, Chemical Pathology, Community Medicine, Human Nutrition and Clinical Nutrition. Apart from supervising undergraduate research, he has supervised 14 research degree students(3 MPhil, 11 PhD) and 12 MD research projects. Prof Wickramasinghe has been an active member of numerous academic committees in the university and has held administrative posts. Prof Wickramasinghe has over 100 publications in refereed journals, 200 abstract presentations, 7 books and 22 book chapters... covering childhood nutrition, growth and body composition. Extensively contributed to technical manuals of the Ministry of Health and Ministry of Education, World Health Organization and UNICEF. Served as the Chairperson of the Editorial Board for the development of Health and Physical Education School Text Books (2014-2018) for Grade 6 through 11(both Sinhala and English) as well as Health education in Piriven curriculum. Contributed extensively to capacity building of peers through delivering more than 100 CME lectures and also published and presented extensively to the benefit of the public. Professor Wickramasinghe has conducted many research including Clinical trials and his work has contributed to policy development He is a recipient of research grants amounting to more than 100 million Sri Lankan rupees from local and international organizations including NSF, NRC, IAEA, and Gates foundation). He has collaborations with local universities as well as University College London UK and Wollongong University, Australia.
He has received 29 awards for excellence in research including University of Colombo award for Excellence in Research-2006 and Presidential Awards for Research 2008, 2013 & 2014, and from local academic colleges. CVCD award 2018, a lifetime award for the most outstanding Senior Researcher in the field of Health Science/Medicine/Dental Science/Veterinary Science/Allied Science in Sri Lankan Universities. Also received Teaching Excellence Awards 2021 and 2022 of F/M, UoC. He has Delivered 8 National Orations awarded by academic colleges and universities. His research interests are in the fields of childhood body composition, obesity and metabolic syndrome, maternal & child nutrition, effects of early nutrition on later diseases, and prevention of Non-Communicable diseases and Communicable diseases with a special focus on Dengue infection. His research has highlighted issues related to child health and contributed for policy decisions as well management protocols of childhood illnesses. Considering his significant contribution to the field of health sciences, the presentation of the Vice Chancellor's Research Award, F/M -2020 is indeed a tribute to this eminent researcher.
Rohini M. de Silva is a Professor in Chemistry at the University of Colombo, Sri Lanka. She completed her secondary education at the Anula Vidyalaya, Nugegoda. She obtained her B.Sc. Degree in Chemistry with First Class Honors from the University of Colombo. She was the recipient of many awards during her Undergraduate level. She was awarded the Studentship for earning the highest average in the first-year examination in Biological Sciences. She was also awarded the Dr. C. L. De Silva memorial prize for Chemistry for the highest aggregate in first and second-year examinations in Chemistry. In addition, she was also awarded the Bhikaji Framji Khan Gold medal for Chemistry for becoming at the top of the chemistry special batch. She obtained her PhD in organometallic chemistry from the University of Cambridge, United Kingdom. She received Cambridge University Commonwealth Scholarship. She has also bestowed the Overseas Research Student Award at the University of Cambridge during her PhD. She received a postdoctoral fellowship at the Center for Advanced Microstructures and Devices, at the Louisiana State University, the USA where she excelled in the fields of materials science and nanotechnology. She won many research awards in her career. She won the Presidential Research Award for six years and a National Research Award presented by National Science Foundation. In addition, she has won Senate Awards for research in 2018 and 2019.
Professor Tharusha N Gooneratne is Chair Professor of Accounting and the Coordinator of the Doctor of Business Administration (DBA) Programme in the Faculty of Management and Finance, University of Colombo. She has previously served as the Head of the Accounting Department and as the Coordinator of the Master of Business Administration (MBA) in Finance Programme in the Faculty. She holds a First Class Honours degree in Bachelor of Business Administration (BBA) and Master of Philosophy from the University of Colombo. She was awarded a scholarship based on the results of the First Year Examination in BBA and the Aitken Spence Gold Medal for Management Accounting. She obtained her Doctor of Philosophy degree from La Trobe University, Australia, and received the Timely Completion of Thesis Award for her PhD. She is a fellow member of the Chartered Institute of Management Accountants (CIMA), UK, and was awarded the B.R. De Silva Memorial Prize for the Best Performance in Sri Lanka in Strategic Financial Management.
She has published widely in leading international journals, authored/co-authored several book chapters and books, and received numerous awards for research excellence locally and internationally. She has been awarded Senate Award for Research Excellence in 2016, 2017, and 2018 by the University of Colombo and the Chartered Institute of Management Accountants (CIMA) Research Excellence Award in 2020. At the Annual Emerald Literati Awards, her co-authored paper won the Mary Parker Follet Award... for Outstanding Paper published in Accounting Auditing and Accountability Journal (AAAJ) in 2013 and another co-authored paper published in the Journal of Applied Accounting Research (JAAR) received the highly commendable paper award in 2018. She is an editorial board member and reviewer for many local and international journals. She has also been facilitating research methods courses/workshops, supervising dissertations/thesis, and has been serving as a research examiner at different universities and institutions at the undergraduate and postgraduate levels.
Dr. G.A.S. Premakumara is a Senior Lecturer at the Department of Basic Sciences and Social Science, Faculty of Nursing. Dr. Premakumara received his school education from Royal College, Colombo and entered the Faculty of Science of University of Colombo and graduated in 1987. He obtained his PhD from University of Colombo in 1996 for his multidisciplinary research on pharmacologically active marine natural products carried out at the Departments of Chemistry & Zoology of University of Colombo, WHO Centre for Chemical & Biological Sciences, University of Karachi and Department of Marine Biochemistry, University Pertanian, Malaysia. He received his Post-doctoral training in Nutrition Biochemistry & Health Food Biotechnology in Japan in 2001-2002 under STA Post-doctoral Fellowship & JSPS Invitation Fellowship. He has Charter in both Biology and Chemistry.
Dr. Premakumara's research expanses from pharmacologically active marine natural products to medicinal & aromatic plants; activity guided isolation, characterization and pharmacological & physiological basis of molecules of nature; health foods & nutraceuticals; In silico & proteomics assisted drug leads discovery; bioassay techniques for biochemical, physiological & pharmacological validations. He has over 375 research publications & scientific communications, 2 books, 4 book chapters and 2 commercialized patents with 1523 citations and an H-index of 18. Under his R&D projects, he has produced 9 MScs, 2 MPhils... and 13 PhDs and currently 3 MPhil/PhD students are reading for their PhDs under his supervision. In recognition of his academic & research achievements he has been awarded Presidential Research Publication Awards, National S&T award, Industrial Technology Institute best innovative technology award, Professor Chandrasena Memorial award of Institute of Chemistry (Lifetime award), WAITRO World Innovation Finalist Award–2016, University of Colombo Senate Award for Research Excellence 2017, 2018 and 2019, SLCARP Award 2019, NSF–SUSRED Award 2019 and several fellowships including prestigious JSPS invitation fellowship of Japan. He is a member of several learned societies in the country and a life member of the Sri Lanka Association for the Advancement of Science, Institute of Biology & Institute of Chemistry, Sri Lanka. He is a Fellow of the Institute of Biology and Institute of Chemistry and an elected Fellow of the National Academy of Science, Sri Lanka.