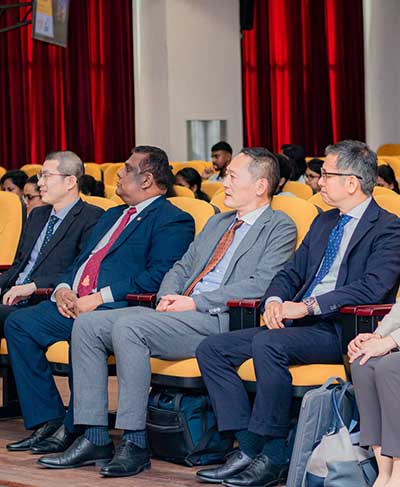 UoC successfully concludes JICA Chair Programme 2022/2023
The Closing Ceremony of the University of Colombo's JICA Chair Programme 2022/2023 was successfully held on February 21, 2023, at the Faculty of Graduate Studies Auditorium. The event was graced by the First Secretary of the Embassy of Japan in Sri Lanka Mr Inoue Kenji, the Director General South Asia Department of Japan International Cooperation Agency (JICA) Mr Ito Teruyuki, the Chief Representative of JICA Sri Lanka Mr Yamada Tetsuya and JICA Sri Lanka team led by Mr Indika Cabral.
The Vice Chancellor Senior Professor (Chair) H. D. Karunaratne, Rector Sri Palee Campus, Dr Prathiba Mahanamahewa, Dean Faculty of Medicine, Senior Professor Vidya Jyothi Vajira H.W. Dissanayake, Dean Faculty of Graduate Studies, Professor A. A. Azeez, Head, International Business, Faculty of Management and Finance, Dr Sajitha Dishanka, Head, Department of International Relations, Professor Chaminda Padmakumara, Registrar, Mr K. A. S. Edward, Director, International Office, Professor Sashika Manoratne were present representing the University of Colombo.
The JICA Chair programme constituted a series of lectures that captured Japan's experiences and lessons learned through its modernization and development process. The closing ceremony also had a student dialogue which showcased what students have grasped from the initiative with the participation of undergraduates representing the Departments of International Business, International Relations, and Business Economics. Among the registered students, 150 received certificates for the successful completion of the programme. UoC's JICA Chair programme was initiated on November 14, 2022.
View More Photos – FOS Media