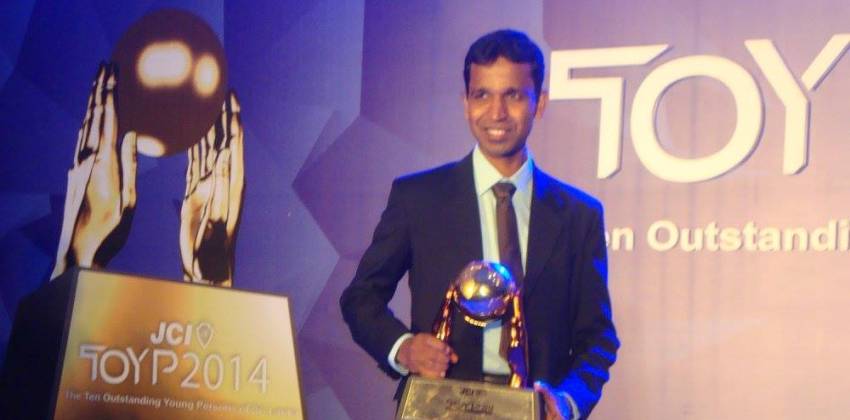 TOYP 2014
Mr K D Sandaruwan received the prestigious TOYP 2014 – Ten Outstanding Young Persons (TOYP) of Sri Lanka award in recognition of his accomplishment in the field of technology development. TOYP Program is hosted by Junior Chamber International (JCI), Sri Lanka and hosted their 34th JCI TOYP Award Ceremony (2014) on 11th November at Waters Edge, Battaramulla. This Program serves to formally recognize young people who excel in their chosen fields and exemplify the best attributes of the world's young people.Sandaruwan is a staff member of the University of Colombo School of Computing (UCSC). He has obtained his B.Sc. from the University of Colombo, Faculty of Science. Currently, he is reading for his PhD at the UCSC under the supervision of Prof. N D Kodikara and Prof. Rexy Rosa. He had his internship at the "InGame Lab", University of Skövde, Sweden in 2010. He has research interests in real-time simulations, Mathematical modeling and 3D graphics.
The ultimate outcome of his PhD research work is a unique approach to simulate real-time six degrees of freedom ship motions. It enables the simulation of existing ships in perception enhanced 3D virtual environment. With the support of UCSC, he was able to bring these research findings to reality by developing a tangible solution, which was named as "Vidusayura Ship Handling Simulator".  Latest version of Vidusayura has been successfully deployed at the Ocean University, Sri Lanka. His outstanding contributions made Siyara 3D Vessel Traffic Management System (3DVTMS) also a nationally significant solution and Siyara VTMS has been successfully deployed at new control tower of the Colombo port and the southern region headquarters of Sri Lanka Coast Guard, Mirissa
Sandaruwan's contributions were recognized by the University Grants Commission (UGC), Sri Lanka and he was awarded the Hiran Thilakaratne Award for Most Outstanding Postgraduate Research Study. He represented UCSC and Sri Lanka for several ICT awards competitions and won awards.
Currently, Sandaruwan is a resource person for several nationally and internationally significant projects. Sandaruwan has published in over 40 publications which includes conference proceedings, journal articles and book chapters. Sandaruwan's knowledge and development experience are further disseminated to undergraduates through their dissertation projects at University of Colombo School of computing and University of Colombo.