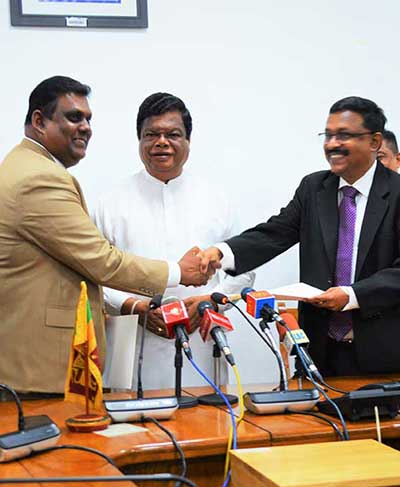 Sri Palee Campus signs an MOU with the Department of Mass Media
In a significant step towards fostering a quality media culture, the Department of Mass Media at the Sri Palee Campus has signed a Memorandum of Understanding (MoU) with the Ministry of Mass Media on 18th July 2023. The MoU signing ceremony, held at the Ministry of Mass Media in Kirulapone, was graced by the presence of Dr Bandula Gunawardhana, the Minister of Transport, Highways, and Mass Media, and involved the participation of key representatives from both institutions.
The primary aim of this MoU is to enhance collaboration between the Ministry of Mass Media and Sri Palee Campus, in their efforts to promote responsible and ethical journalism, media education, and the overall development of the media industry in Sri Lanka. The signatories to this MoU were Senior Professor (Chair) H.D. Karunaratne, the Vice-Chancellor of the University, and Mr Anusha Palpita, the Secretary of the Media Ministry. Additionally, the esteemed presence of Dr Prathiba Mahanamahewa, the Rector of Sri Palee Campus, and Dr Sugath Senarath, Head of the Department of Mass Media, Sri Palee Campus, further emphasized the commitment of the university to the partnership.
The Government Information Director General, Mr Dinith Chinthaka Karunarathne also graced the occasion, highlighting the government's active involvement in promoting a vibrant media landscape that upholds the values of transparency and accuracy. Through this collaboration, both the Ministry of Mass Media and Sri Palee Campus seeks to create a conducive environment for media professionals to thrive, while also equipping students with the necessary skills and knowledge to contribute positively to the media industry. This partnership aims to facilitate knowledge-sharing, research collaborations, and training programs that will empower media practitioners to deliver accurate and unbiased news to the public, ensuring a well-informed citizenry in the digital age. As the MoU sets the stage for a more robust media ecosystem, it is hoped that this cooperative effort will lead to a brighter future for media development in Sri Lanka, one that champions journalistic integrity, freedom of expression, and the public's right to access reliable information.