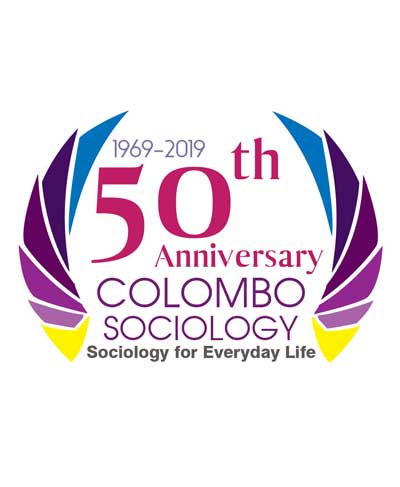 Social Sciences and Humanities in the Digital Age and in Pandemic Times – Annual Research Symposium 2021
The Department of Sociology, University of Colombo is a department with a proud history of 50 years of teaching and learning in the social sciences. The Department offers both undergraduate and postgraduate courses in the field of Sociology as well as Social Work, Anthropology and Psychology. The Annual Research Symposium organized by the Department of Sociology was held on 26th of March, 2021. The year 2021 marks the centennial anniversary of Social Sciences and Humanities in higher education of Sri Lanka. This symposium was organized to commemorate this milestone in higher education of Sri Lanka. The symposium was chaired by Prof. Farzana Haniffa who is also the Head of the Department. The theme of this year's conference was 'Social Sciences and Humanities in the Digital Age and in Pandemic Times'. This year's symposium saw the participation of a wide range of young scholars and papers were presented in all three languages.
The day's proceedings commenced with the inauguration where Senior Professor Chandrika N Wijeyaratne, Vice Chancellor of the University of Colombo, Senior Professor Lasantha Manawadu – Dean of the Faculty of Arts, Chair professor of the Department of Sociology, Senior Professor Premakumara de Silva and Professor Farzana Haniffa addressed the symposium. The keynote address was made by Prof. Benjamin Schonthal from University of Otago, New Zealand. Professor Schonthal spoke on the evolution of Buddhist Law in the colonial context and related his talk to the use of digital document repositories to carry out research under pandemic conditions. Prof. Schonthal presented his research under the topic "A new story of Buddhist Law? thinking about Empire and Inter-legality in a Digital Age."
The Department received approximately 50 abstracts out of which 30 were selected to be presented at the technical sessions. The symposium technical sessions where organized around the following key themes:
The Impact of the Pandemic on Education
The Pandemic and the Media
Society and Culture under Pandemic Conditions
COVID 19 and the Discourse on Health
The symposium was conducted online with four parallel sessions each in the morning and the afternoon. The Department is looking forward to incorporating some of the papers presented into future issues of the Department journal Samaja Vigraha. The symposium this year is the first in a series of annual symposia that the department plans to hold going forward. The response to the call for papers as well as the quality of the papers presented were indicative of the interest in the larger research community for engagement with the department. The department, with a long history of producing scholarship crucial to an understanding of Sri Lankan society and culture, plans to expand its engagement with the country's wider research community through its' annual research symposia.