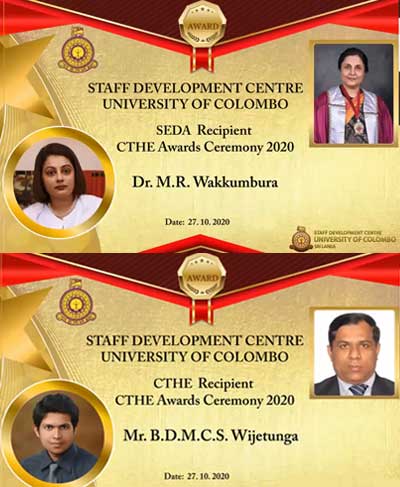 SDC Awards Ceremony 2020
The Awards Ceremony of the Staff Development Centre of the University of Colombo was held on the 27th of October 2020 as an online event, under the patronage of the Vice-Chancellor, Senior Professor Chandrika N Wijeyaratne. The event, which saw sixty-six participants from universities across the country receive their accreditation as teachers in higher education from the University of Colombo, as well as from the Staff and Educational Development Association (SEDA) – UK, was attended by Vice-Chancellors of participating institutions, Deans of Faculties, Directors of Institutes, Heads of Departments as well as heads of administration of the University.
Director SDC Professor Naazima Kamardeen highlighted in her welcome address that several firsts were recorded in this course, including online examinations, an online ceremony, and in-house printing of certificates by the University Press. She noted that conducting examinations online contributed to the speedier release of results. She noted that even in the face of adversity, the course was conducted successfully due to the dedication of the participants.
The Vice-Chancellor, Senior Professor Chandrika Wijeyaratne noted in her address that it was necessary for staff to constantly upgrade their knowledge and teaching methods. She highlighted the fact that the modern teaching-learning context calls for a high degree of adaptability and urged the CTHE awardees to continue to support and guide their students through these difficult times. She congratulated the participants and wished them well in their future endeavours.
Mr. MGCC Dharmakeerthi was awarded the Dr. Shrinika Weerakoon award for the Best Performing Academic. The certificates were handed out by the Deans and Directors, and the Vice-Chancellor.
---