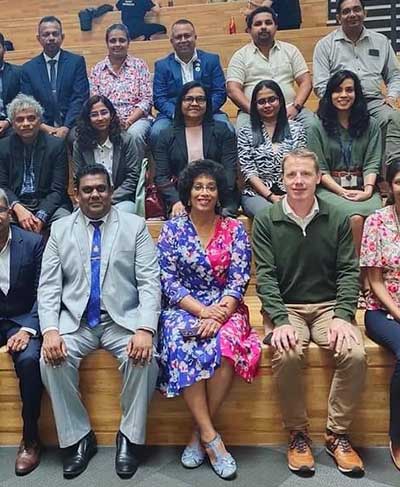 UOC Team Participated in the Research Training Network Program on Addressing Climate Change as a Key Driver of Disaster Risk (CCA-DRR)
CCA-DRR aims to enhance the research capabilities of academic staff members from the United Kingdom and Sri Lanka in effectively tackling climate change as a primary contributor to disaster risk. The Research Training Network Program was Organized by the Global Disaster Resilience Centre, University of Huddersfield, United Kingdom from June 26th to July 8th, 2023.
The impact of climate change on disaster risk is evident in its ability to amplify the frequency and intensity of hazardous events, increase vulnerability to hazards, and alter exposure patterns. Sri Lanka, among other countries, has already witnessed these consequences, including a rise in extreme weather-related incidents such as cyclones, droughts, monsoonal rains, and subsequent flooding and landslides. Despite the growing recognition of their interconnectedness, disaster risk reduction (DRR) and climate change adaptation (CCA) have largely remained separate entities in research and policy circles. To address this gap, the UN Sendai Framework for DRR 2015–2030 introduced a pathway for DRR that has been adopted by 187 countries. It emphasizes the need for "more dedicated action focused on addressing underlying disaster risk drivers, such as the impacts of climate change."
Against this backdrop, the CCA-DRR Network brought together twenty-seven Sri Lankan academics from eight universities (University of Moratuwa (UOM), University of Colombo (UOC) University of Peradeniya (UOP), University of Ruhuna (UOR), Southeastern University of Sri Lanka (SEUSL), University of Sri Jayewardenepura (USJ), University of Kelaniya (UOK) and Sabaragamuwa University of Sri Lanka (SUSL). The objective was to enhance capacity-building efforts that can facilitate a more integrated approach to CAA and DRR. The two-week structured training programme included a research seminar, guest lectures and panel discussions featuring international expertise and diverse disciplinary perspectives. This training initiative aimed to generate high-quality research that is relevant to policy and practice, thereby supporting Sri Lanka's endeavors in addressing climate change and its impact on disaster.
Four academics from the University of Colombo namely Senior Professor (Chair) H.D. Karunaratne, Vice Chancellor, Senior Professor Lasantha Manawadu, Dean Faculty of Arts, Professor Nishara Fernando, the Coordinator of the CCA-DRR, Dr Pradeep Pieris,  the Head of the Department of Political Science and participated in the two-week training programme. Professor Dilanthi Amaratunga, Professor Richard Haigh, and Dr Chamindi Malalgoda from the University of Huddersfield organized and conducted this programme. In addition, more than 24 Sri Lankan academics representing 8 universities in Sri Lanka participated in this CAA-DRR staff exchange program.