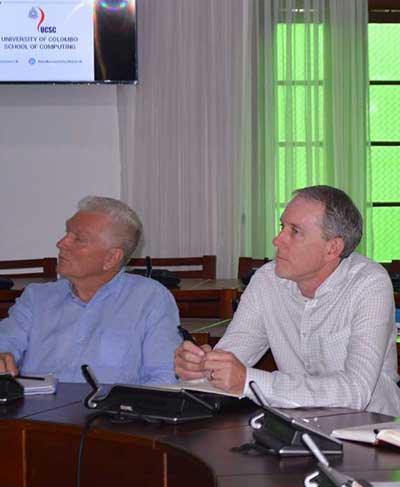 Research collaboration and coursework articulations in STEM with QUT
On 24th April 2023, a senior delegation from the Queensland University of Technology (QUT) Faculty of Engineering and Faculty of Science visited the University of Colombo with the purpose of exploring opportunities for collaborative research and possibilities of articulation arrangements in coursework programs in the fields of Science, Information Technology, and Engineering. They engaged in productive dialogues with key stakeholders at the University of Colombo, including faculty members and academic administrators.
The QUT delegation included Professor Troy Farrell, the Executive Dean of the Faculty of Science, Professor YuanTong Gu the Head of the School of Mechanical, Medical, and Process Engineering, Professor Les Dawes, the Head of the School of Civil and Environment Engineering, Professor Alistair Barros, Head of the School of Information Systems, Associate Professor Jim Hogan, the Academic Lead for Learning and Teaching in the School of Computer Science, Associate Professor Ajay Pandey from the Faculty of Engineering, Ms Marina McKeague, the Client Manager of the International Office, and Ms Malshani Perera, Country Manager of the International Office, QUT. Representing the University of Colombo were the Acting Vice Chancellor, Senior Professor Lasantha Manawadu, Dean of the Faculty of Science, Senior Professor Upul Sonnadara, Dean of the Faculty of Technology, Professor RUK Piyadasa, Dean of the Faculty of Nursing, Professor SSP Warnakulasuriya, Registrar of the university Mr. KAS Edward, the Director of the International Office, Professor Sashika Manoratne, as well as the Heads of Departments from the Faculty of Technology and other staff members. In addition, QUT alumni Dr Jayani Atapattu, Dr. C Ranasinghe, and Dr. WAM Madhavi were also in attendance at the meeting.
The visit was an exciting opportunity for both institutions to exchange ideas and forge partnerships that would benefit students, faculty, and the wider community. UOC and QUT have a joint Ph.D. agreement that enables ongoing collaboration between the two institutions, and this agreement will remain in effect until June 2026.