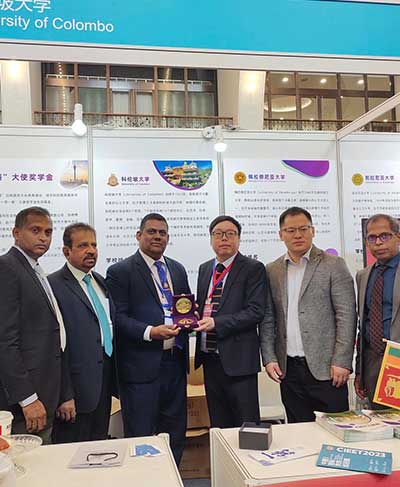 Effective actions taken to promote Postgraduate Programs of UOC among Chinese Students
University of Colombo signed a memorandum of understanding (MoU) with the Tomorrow Technology Education Service Center to promote postgraduate programs at the University of Colombo among Chinese students. As part of this partnership, the UOC established an International Student Recruitment Office in China, located on the 12th Floor Room No 1205, No 03 Chongwenmenwal Street, Dongcheng District, Beijing. This recruitment office will be operated by the Tomorrow Technology Education Service Center in Beijing.
The Annual China International Exhibition tour, organized by the Chinese Service Center for Scholarly Exchange (CSCSE), took place on April 7th, 2023, in Beijing, China, and over 150 international universities attended with the intention of promoting their respective graduate and postgraduate programs among potential Chinese students.
Delegation from the University of Colombo included the Vice Chancellor Senior Professor (Chair) H.D. Karunaratne, Senior Professor Lasantha Manawadu, the Dean of the Faculty of Arts – Dr Mahinda Pushpakumra, the Coordinator for the Master of Financial Economics program – and Mr PMS Bandara, the Deputy Registrar of the faculty. UOC delegates participated in the event with the primary aim of exploring a range of educational opportunities available in China and initiated a collaboration with the Open University of China. The Open University of China operates in 44 provinces in China and functions directly under the supervision of the Ministry of Education of China.