Professor Chandrika Wijeyaratne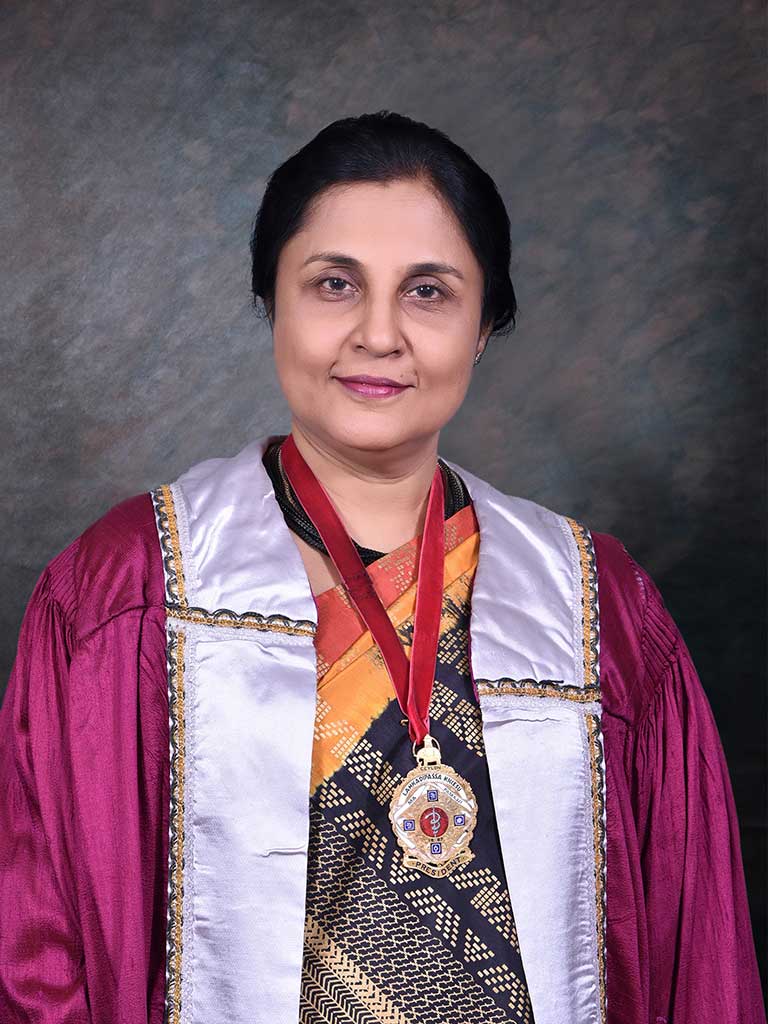 Professor Chandrika N Wijeyaratne assumed duties as the 18th Vice Chancellor of the University of Colombo on 12th April 2019. She is an alumnus and an academic in Reproductive Medicine and Endocrinology, Department of Obstetrics and Gynaecology in the Faculty of Medicine, University of Colombo since 1993. She is Senior Professor since 2010, having qualified with MBBS Second Class (Upper) Honours (1983), M.D Internal Medicine (1989) and Doctor of Medicine by Research (2003) from the University of Colombo. It is indeed serendipitous that Prof Wijeyaratne, the third academic from the medical faculty to hold the Office of the Vice Chancellor, will lead the University to celebrate the 150th anniversary of its pioneering faculty, the Faculty of Medicine.
In addition to being a Commonwealth Fellow (1999-2000), she was elected as Fellow of the Ceylon College of Physicians and Royal College of Physicians London, and was awarded honorary fellowships by Sri Lanka College of Endocrinologists, College of General Practitioners of Sri Lanka and the Association of Physicians of India.
Professor Wijeyaratne was the first Endocrinologist in Sri Lanka to be appointed to an academic position, and has the distinction of being a pioneer Physician in Women's Health (Obstetric Medicine and Reproductive Endocrinology) in the South Asian region. With teaching experience exceeding 30 years she has left her mark on medical and postgraduate education by helping in the development of an innovative medical school curriculum and in inspiring a large number of trainees to enter the field of Endocrinology. She attends on women with complex endocrinopathies and serves as a clinical consultant for all pregnant women with severe endocrine and medical complications. Her contributions to the field of Endocrinology was celebrated internationally with the prestigious Laureate Award for International Excellence in 2017 by the Endocrine Society of USA – in its centenary year; the only such award to date for South Asia. This award in particular recognized Professor Wijeyaratne's internationally pioneering work on the ethnic variations of polycystic ovary syndrome (PCOS) and her successful efforts to transform the management of diabetes in pregnancy in a resource limited setting.