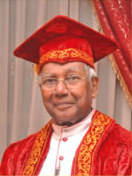 Postgraduate Convocation 2017 – Message from the Chancellor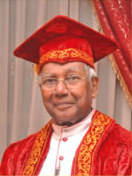 The University of Colombo is the oldest and the best distinguished state university in Sri Lanka. Naturally, there is a great demand for entrance here. Unfortunately, often we are restrained due to the lack of space and facilities to accommodate all those students who apply. However, our students get the best of academic quality and formation here. In fact, as our records prove during the past few years, the quality of our education and our accomplishments have been highly commendable. We have always strived to produce worthy citizens for Sri Lanka and the united efforts of the tutorial staff and the assisting staff have helped us to accomplish this objective.
The leaders of our country should often come from the elite in society, and we hope that our products will someday be at the helm of affairs to get the nation into prosperity and peace. Furthermore, even at a recent conference, I mentioned that there should be gratitude on the part of the students to their alma mater. It is my firm hope that those who are graduating in this term will keep that firmly in mind and extend their support to the university throughout their career in life.
My warm congratulations and greetings to the graduates who are qualifying this year.
Archbishop Emeritus Oswald Gomis
Emeritus Archbishop of Colombo
Chancellor, University of Colombo