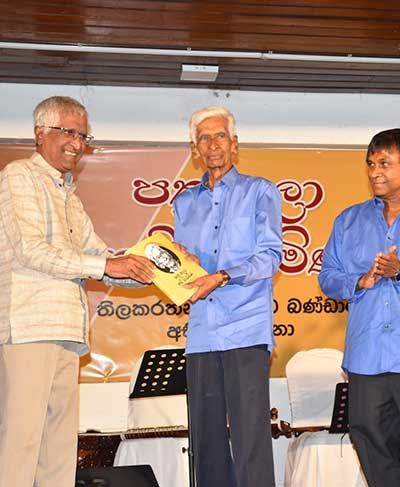 'Pathra Kala Kavu Silumina; Tilakarathna Kuruwita Bandara Abhisambhawana' felicitation ceremony
Honoring six decades of invaluable service to the Sri Lankan cultural field by renowned journalist, poet, literary critic and author Tilakarathna Kuruwita Bandara, an event celebrating his services was held on Friday, the 28th of July 2023, at Sri Lanka Foundation Institute auditorium from 3.30 pm onwards.
The event included the book launch of 'Pathra Kala Kavu Silumina; Tilakarathna Kuruwita Bandara Abhisambhawana' edited by Senior Professor Samantha Herath, which includes scholarly articles written by reputed writers on Tilakarathna Kuruwita Bandara and his work. The first copy of the book had been presented to Mr Tilakarathna Kuruwita Bandara, by Emeritus Professor Sunil Ariyarathne, the Chancellor of Visual and Performing Arts, whose brother of Mr Tilakarathna Kuruvita Bandara. Mr H.D. Premasiri, the owner of Sarasavi Publishers and Senior Professor Samantha Herath, the editor of Pathra Kala Kavu Silumina participated in this event. Dr Sarath Amunugama attended as the Chief Guest of the event. Mr Saman Athaudahetti and Professor Herath delivered the key lectures. Dr Gunadasa Amarasekara the prominent writer, poet and essayist, Senior Professor (Chair) H.D. Karunaratne, Vice Chancellor of the University of Colombo participated in the felicitation ceremony.
Ms Indika Upamali, Mr Shalitha Abhayawickrama, Ms Lakmini Udawatta and Mr Ravindra Alagiyawanna performed songs written by Tilakarathna Kuruwita Bandara and dancing choreographed by Dr Ravibandu Vidyapathi. Many distinguished guests, Veteran journalists, and artists in various fields of literature, music, theatre, cinema, and academics were joined, in this colourful evening.