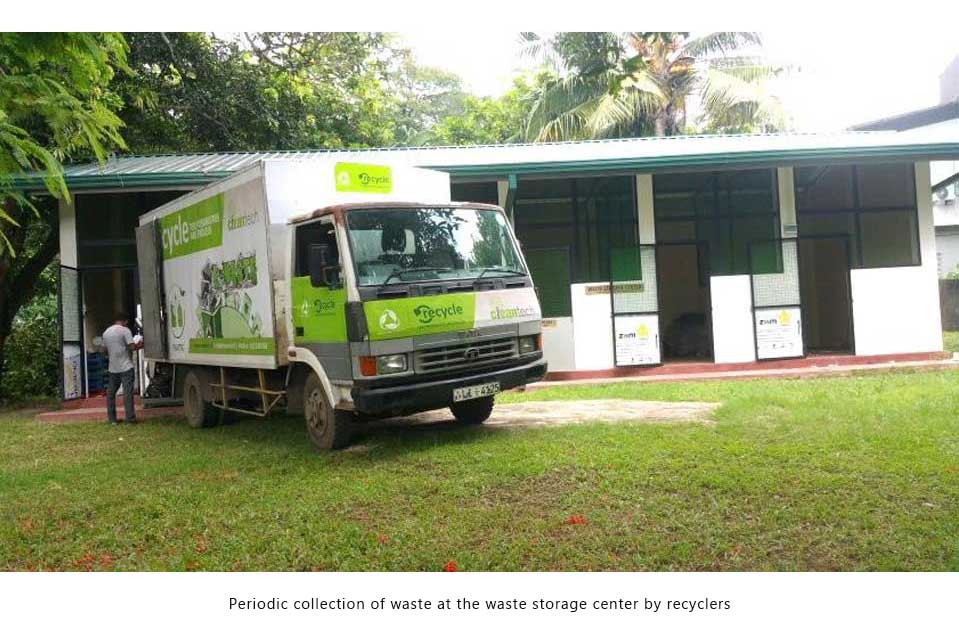 University of Colombo's path towards a sustainable, carbon neutral green university
The University of Colombo is on the verge of becoming a sustainable, green, and carbon-neutral university. The university has plans to become a greener, carbon-neutral university through enhancing greenery, shifting to more renewable energy sources, and minimizing the waste on campus, while promoting recycling and its contribution to a circular economy. The University has planned to achieve this with the support of its Center for Environmental Initiatives (CEI). The CEI made the University of Colombo a polythene free zone, with the goal of reducing the use of single-use plastics on campus, in 2017. It has conducted annual waste surveys to determine and minimize the waste generation at faculty- and canteen-level, with the support from the Central Environmental Authority (CEA) and private sector partners including the Nations Trust Bank, Cleanco Lanka (PVT) Ltd, and MAS Active (Pvt) Ltd – Linea Intimo, etc. With the initiatives taken so far, plastic waste generation on campus has been nearly halved (showing a decrease from 35.5 tons to 19.2 tons) from 2017 to 2019, as evident from the annual waste survey. Banning the use of polythene lunch sheets at canteens, introducing lunch boxes and alternative products, green talks and awareness programs for canteen-, janitorial-, academic-, and non-academic staff and students have helped the overall waste reduction on campus; the total waste generation in 2019 showed one third reduction compared to 2017.
The CEI, recently opened the Waste Storage Center of the university, which was established with the support from CEA, for storing multiple categories of waste (i.e. paper, polythene/plastics, metal, glass, and other waste (including e-waste)), until they are sold to well-established recyclers in the country. It has partnered with the other green projects of the university, including the shift towards more renewable energy sources such as solar power for lighting, which has been targeted especially for new buildings in the future, water conservation measures, and enhancing greenery across the campus. The data collected from a university-wide tree audit done by the Plant Sciences Department has been utilized along with the water- and energy (i.e. electricity and transport) consumption, and waste generation data to calculate the carbon footprint of the university, with the target of making the University of Colombo a carbon-neutral university. So far, the carbon footprint calculations have been done only for the Faculty of Science (since 2014), and the CEI is in the process of extending the same to the entire university to prove/reach carbon neutrality in the near future. The support given by the Vice-Chancellor and other senior officials of the university, campus community, service providers, and private partners will definitely help the University of Colombo to become a sustainable, green university.