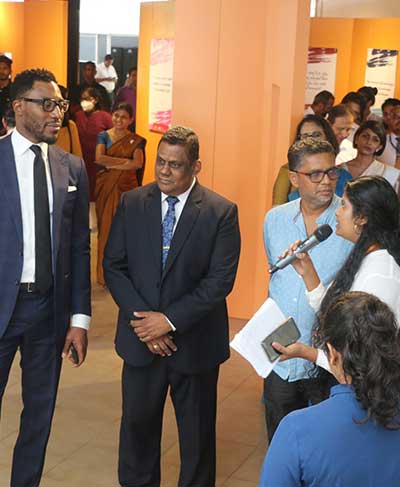 Opening of the Youth Wellness Center, Faculty of Arts
The opening of the Youth Wellness Center (YWC), Faculty of Arts was held on April 3, 2023, at the Faculty premises, in the presence of the Vice Chancellor, Senior Professor (Chair) H.D. Karunaratne, Dean of the Faculty of Arts; Senior Professor Lasantha Manawadu, Dean of the Faculty of Medicine; Professor Vidya Jothi Vajira HW Dissanayake, Registrar of the University Mr K.A.S. Edward, and the staff members of the University.
The ceremony was graced by distinguished invitees, including the Country Director of the United Nations Population Fund (UNFPA), Mr Kunle Adeniyi; Dr Vinya S. Ariyaratne, Honorary President of the Sarvodaya Shramadana Movement; Ms Shanthi Bhagirathan, Group Director of the Capital Maharaja Group; those organisations partnered with the Youth Wellness Center. The YWC was established for the purpose of providing a comprehensive package of services in nutritional health, psychosocial counselling, sexual and reproductive health, referrals for prevention and response to gender violence, food security, and any other areas related to wellness and the continuation of quality education.
The Center announced the official launch of the webpage [https://arts.cmb.ac.lk/ywc] and the Suwatha Sanitary Programme which partnered with the Capital Maharaja Group on providing sanitary napkins at a discounted rate and promoting hygiene wellness and awareness among the undergraduates. The Youth Wellness Center tour was guided by the Youth Wellness Society members, and a briefing on the functions of the medical equipment was conducted by Dr Lahiru Koduthukkuwakku and Ms Sasanka Dharmasena whereas, the briefing for physical wellness was conducted by Dr Samantha Nanayakkara.
The Youth Wellness Centre operates under an Executive Committee consisting of the Director, Mr Dhamma Dissanayake, Senior Lecturer at the Department of Political Science and Public Policy and Coordinator, Dr Menik Wakkumbura at the Department of International Relations, Activity Coordinator, Dr Darshi Thoradeniya at the Department of History and the Steering Committee chaired by the Dean of the Faculty of Arts.