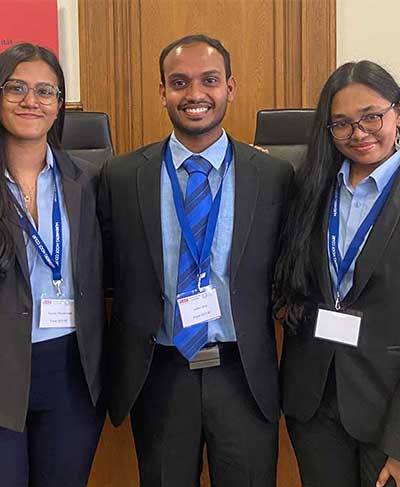 Faculty of Law Shines at Nuremberg Moot Court Competition
The team representing the Faculty of Law achieved remarkable success at the 'Nuremberg Moot Court Competition' held at the Palace of Justice in Nuremberg, Germany from the 19th to the 22nd of July 2023. Led by the talented Ms Sayuni Masakorala as their Captain, the team also included Mr Asher Dias Abeyesinghe and Ms Peheli Rubasinghe.
The Initial phase of the Competition started in December 2022 with nearly 200 teams participating. Out of 123 teams that took part in the written submission stage, the University of Colombo team was the only one representing Sri Lanka to proceed to the top 32 teams in the Global Final Oral Rounds held in Nuremberg. The team achieved the Semi-Finalist position and also secured 2nd place during the Preliminary Oral Rounds of the Competition.
The team argued a fictitious case based on International Criminal Law and International Humanitarian Law, simulating the proceedings of the International Criminal Court (ICC). They represented both the Office of the Prosecutor and the Defence and were successful in winning both preliminary oral rounds. Moreover, the team had the opportunity to plead at the historic Courtroom 600 of the Palace of Justice, where the former Nuremberg War Trials were held. Ms Yanitra Kumaraguru coached the team, and they received assistance from Professor Naazima Kamardeen, Senior treasurer of the Moot Court and Debating Society of the University.