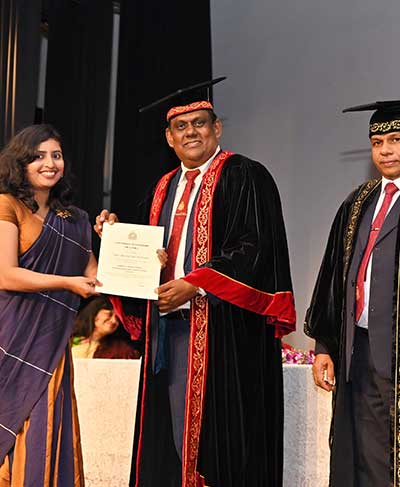 ECE Diploma Awards Ceremony 2023 Honours 537 Students
The Extension Courses in English (ECE) offered by the Department of English, Faculty of Arts, held its Diploma Awards Ceremony on July 22, 2023, at the New Arts Theatre. A total of five hundred and thirty-seven students from the 2017/2018 and 2018/2019 batches were awarded their Diploma certificates at this ceremony. The ECE is a flagship community service program that has been offering fee-levying English proficiency courses to the general public since 1983. Now, in its fortieth year, the ECE program offers three Diploma courses: the Diploma in Advanced English for Administration and Academic Purposes (DAE), the Diploma in English for Teachers of English (DETE) and the Diploma in English for English Medium Instruction Teachers (DEEMIT).
The Awards Ceremony was declared open and presided over by the Vice-Chancellor of the University, Senior Professor (Chair) H.D. Karunaratne. In his speech, Professor Karunaratne congratulated the awardees for their perseverance and stressed the importance of English in becoming global citizens. Ms Aruni Goonetileke, a leading figure in the Sri Lankan banking sector and an alumna of both the University of Colombo's Faculty of Law and Harvard Law School, was the Chief Guest of the event. She most recently served as the Chairperson of HNB PLC and has previously held positions in the banking sectors of Singapore and Sri Lanka. Ms Goonetileke congratulated the Diploma awardees for succeeding in their studies despite adversity and spoke about the qualities that would be useful to awardees entering the private sector: a good attitude, perseverance, skills development, and a strong moral compass.