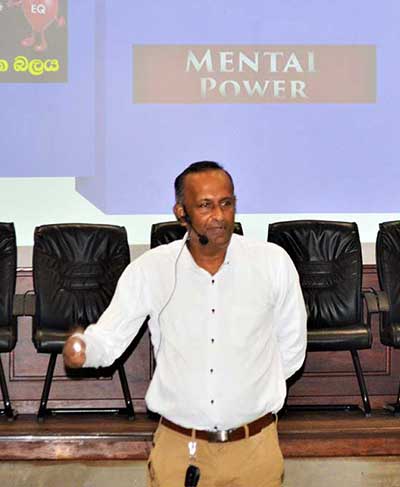 Motivational Program for Management Assistants by SDC
The Staff Development Center (SDC) conducted a one-day training program for Management Assistant staff members on the 18th of July 2023 with the participation of 250 staff members. The program began with a welcome speech by Professor Maduka Udunuwara, the Director of SDC, followed by a motivational speech by Mr K. A. S. Edward, the registrar of the University. The Vice Chancellor, Senior Professor (Chair) H.D. Karunaratne, also enlightened the participants with his thought-provoking speech.
A comprehensive workshop on the theme "Productive work environment through a happy family" involved a detailed discussion on improving individual behaviours for mental and physical well-being. This session was facilitated by Dr. Chaminda Weerasiriwardane, Counsellor, and Psychologist from Peradeniya Teaching Hospital. The outbound training session of the workshop provided an opportunity for staff to get to know their peers representing various faculties and to promote further build their network. This session included management games to uplift team spirit, motivation, and responsibility, and promote positive thinking. The winning teams were given trophies by the trainers to further motivate the participants.
Undoubtedly, this workshop has enhanced the sense of belonging to the university and has emphasized the important role of Management Assistant staff in the University system. It is expected to improve their involvement in their day-to-day responsibilities with a positive mindset while maintaining a healthy family environment. The second round of the same program will be held in August 2023 with the participation of over 200 staff members.
View More Photos on FOS Media