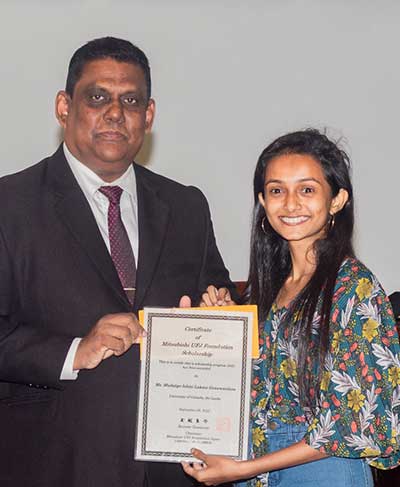 Awarding of Mitsubishi UFJ Foundation Scholarships for the 6th Consecutive year
The award ceremony of the Mitsubishi UFJ Foundation Scholarships – year 2022/2023 was held for the sixth consecutive year on 21st November 2022 at the Senate Hall of the University of Colombo. Based on the nominations submitted by the University, 17 undergraduate students from the Faculties of Management and Finance, Medicine, Science, Law, Education and Arts were awarded (USD 340 per student) with certificates.
The scholarship funds and certificates were disseminated among the awardees by Senior Professor (Chair) H.D. Karunaratne, the Vice Chancellor and Ms Shalini Jayaratne, the Resident Representative of Mitsubishi UFJ, MUFG Bank, Colombo. The occasion had been graced by participating Professor M.P.P. Dharmadasa, Dean, Faculty of Management and Finance, Mr K.A.S. Edward, The Registrar, Dr Rajitha Silva, Senior Student Counselor, Dr Sashika Manoratne, Director, International Office and Ms Tharanga Dassanayake, Senior Assistant Registrar. International Office. The ceremony was organized by the International Office.
Media coverage – FOS Media