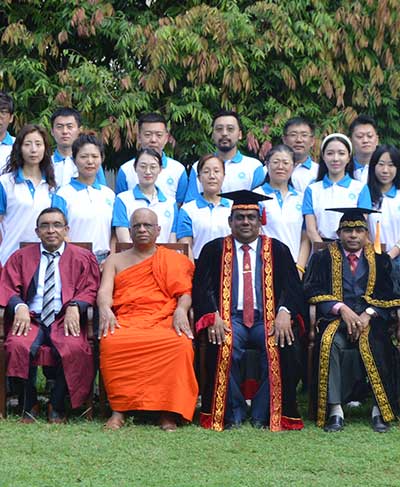 Closing ceremony: Masters in Financial Economics Program for Foreign Students
The students from the foreign batch of the Masters in Financial Economics program for 2022, offered by the Department of Economics successfully completed their on-site learning period at the University of Colombo. The program's successful conclusion was celebrated at the Closing Ceremony held on Friday, August 11th, 2023, at the Faculty of Arts.
The closing ceremony was graced by distinguished attendees, including the Vice Chancellor of the University of Colombo, Senior Professor (Chair) H.D. Karunaratne; the Dean of the Faculty of Arts, Senior Professor Lasantha Manawadu; the Head of the Department of Economics, Professor Chandana Aluthge; Coordinator Dr Mahinda Pushpakumara; and the respective teaching faculty of the program. During the ceremony, the Vice Chancellor delivered a speech emphasizing the value of obtaining a postgraduate degree from the University of Colombo, the only Sri Lankan university that is part of the Asian University Alliance. The audience was encouraged to maintain and elevate the standards set by the University. The Masters in Financial Economics (MFE) program for 2022, designed exclusively for students from China, comprised 94 participants who arrived in Sri Lanka in June 2023. These students have actively participated in on-site lectures, discussions, and a variety of other learning activities, as well as networking and cultural engagements that have significantly enhanced their experience with the MFE program. After undergoing on-site examinations that began on August 14th, 2023, the students are expected to return to China.