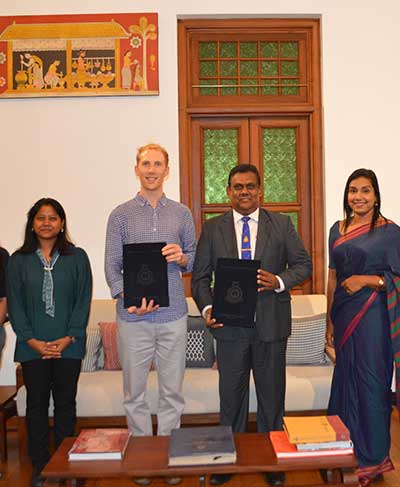 "Leading with Character": A Workshop in Collaboration with the University of Oxford
As part of a learning exchange between the University of Oxford and the University of Colombo, a team from the Oxford Character Project (OCP) travelled to Sri Lanka and conducted a two-day workshop titled "Leading with Character". Anjali Sarker and Andrew Maile from the OCP, aided by Consultant Mohamed Husni, had put together a very engaging programme for the 30 selected undergraduates of the University of Colombo, allowing them to think deeply and cultivate some of the important values necessary for responsible leadership.
The first day of the workshop focused on self-development and cultivating the virtues that form the core of a good and effective leader. Day two aimed at expanding the scope beyond the individual and dealt with how leaders can facilitate productive collaboration and improve wider social systems. The workshop involved an effective blend of presentations, small and large group discussions, collaborative exercises, and reflective activities. It was very rewarding to see the young undergraduates come out of their shells and interact with each other, sharing their experiences and expressing their opinions with great conviction as one would expect from any good leader.
Upon completion of the workshop, a Collaboration Agreement was signed between Chancellor Masters and Scholars of the University of Oxford represented by Andrew Maile from the OCP, and the University of Colombo represented by the Vice Chancellor of the University, Senior Professor (Chair) H.D. Karunaratne.