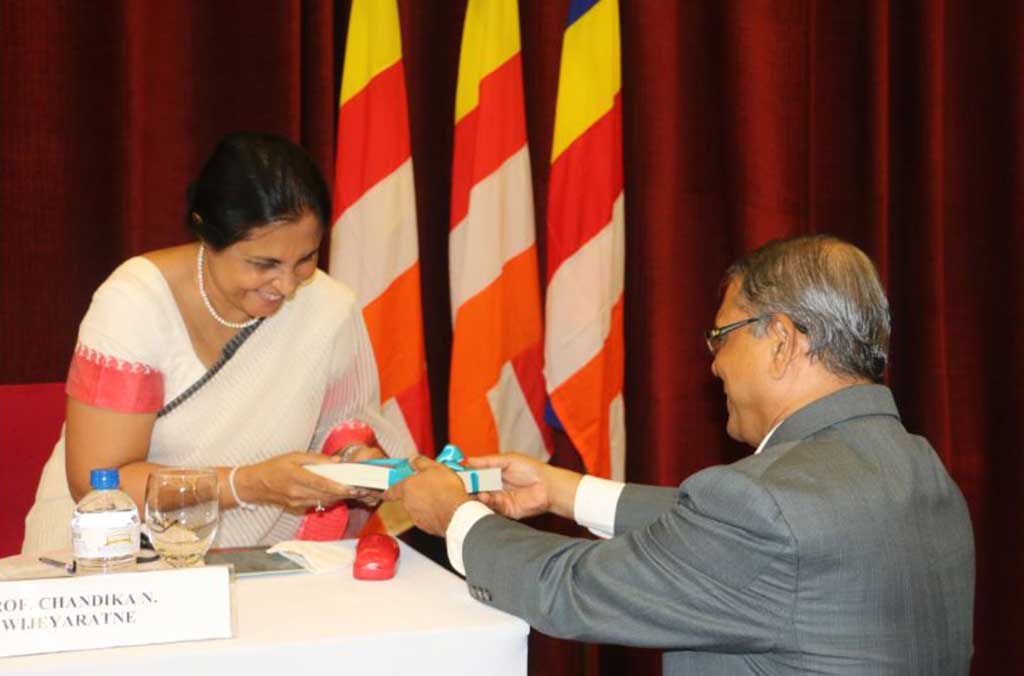 Launching Ceremony of the Collected Papers of Emeritus Professor Asanga Tilakaratne
The launching ceremony of the Collected Papers of Asanga Tilakaratne was held at Lotus Hall, BMICH, Colombo on 27th August 2020 at 4.00 pm onwards. In this great occasion, three volumes in Sinhala; Buddhist Philosophy and Ethics, Studies on Buddhist Modernity, and Buddhist Literature and Culture, and five volumes in English; Buddhist Philosophy, Buddhist Ethics, Theravada Studies, Buddhism, and Modernity, and Inter-religious Understanding were launched. Senior Professor Chandrika N Wijeyaratne, Vice-Chancellor, University of Colombo expressed her greetings and appreciated Emeritus Professor Asanga Tilakaratne's contribution to the field of education focusing on humanities and social sciences. She admired Prof. Tilakaratne's dedication to promote the unit of Pali and Buddhist Studies to a full-fledged department, and to start BA Special degree, Postgraduate Diploma, Masters, Master of Philosophy (MPhil), and Doctor of Philosophy in Buddhist studies. Senior Professor Premakumara de Silva, Dean, Faculty of Arts and members of the academic staff attended this ceremony.
Ven. Koswatte Ariyawimala and Emeritus Professor Jayadeva Uyangoda conducted book reviews on Collected Papers of Asanga Tilakaratne in both Sinhala and English mediums. Ven. Dr. Bellanwila Dhammarathana, Ven. Dr. Omalpe Sobhita, Ven. Tirikunamale Ananda delivered appreciation speeches on Prof. Tilakaratne. Ven. Prof. Raluwe Padmasiri addressed the gathering on the process of Editing. Ven. Prof. Miriswatte Wimalagnana, gave the welcome speech and Dr. Wimal Hewamanage delivered the vote of thanks.