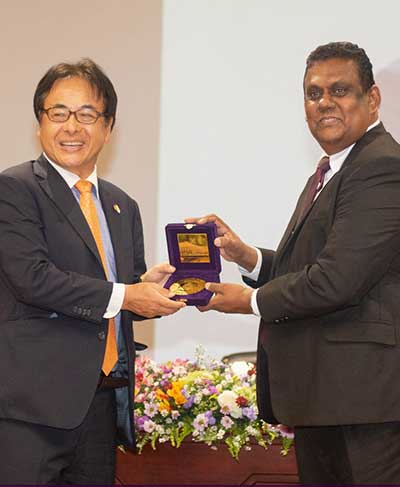 University of Colombo launches the JICA Chair Programme
With the aim of nurturing future leaders by adopting Japan's experiences and lessons learned through its modernization and development, the University of Colombo launched the JICA Chair Programme in collaboration with Japan International Cooperation Agency (JICA) Sri Lanka. The inaugural session of the programme titled "Meiji Revolution: Start of Full-scale Modernization" was successfully held as a hybrid event on November 14, 2022, from 4 to 6.30 p.m. at the Faculty of Graduates Studies Auditorium.
His Excellency the Ambassador of Japan to Sri Lanka Mizukoshi Hideaki was the Chief Guest of the event. Also, the Chief Representative of JICA Sri Lanka, Mr Yamada Tetsuya and the JICA team led by Mr Indika Cabral graced the inaugural session. The Vice Chancellor Senior Professor (Chair) H.D. Karunaratne Deans of Faculties, Director International Office, Registrar, Bursar, Heads of Departments, academic and non-academic staff members were present. Nearly two hundred undergraduates from the Departments of International Relations and Economics representing the Faculty of Arts and the Departments of International Business and Business Economics representing the Faculty of Management and Finance attended the inaugural session.
The event also marked the 70th Anniversary of Japan-Sri Lanka diplomatic relations. The Vice Chancellor, Professor Karunaratne in his address underscored the importance of deepening and strengthening the University of Colombo's ties with Japan and Japanese Higher Education Institutions in exploring greater scholarly possibilities. His Excellency the Ambassador of Japan to Sri Lanka Mizukoshi Hideaki and Mr Yamada Tetsuya also addressed the gathering emphasizing the need for stronger collaboration between the two nations.
During the inaugural session, the participants watched a video on the "Meiji Revolution" presented by Dr Kitaoka Shinichi, the Special Advisor to JICA President whose specialty is modern Japanese politics and diplomacy. The video was followed by a presentation by Professor N. S. Cooray who joined the session online from Japan. Professor N. S. Cooray is a Professor of Economics at the International University of Japan (IUJ). Professor Cooray's presentation captured the implications of Japanese full-scale modernization led by the Meiji revolution in a variety of spheres including state, market and civil society.
The rest of the lecture series to be conducted through the University of Colombo JICA Chair Programme include: Japan after World War II, Economic Growth and Japanese Management, Educational Development in Modernization, A Japanese Approach to International Cooperation, Modernization of Japan's Administrative System, Development of Industries and Industrial Policy, and The Road to a Nation of Science and Technology. The University of Colombo JICA Chair Program is overseen by the International Office of the university.
Media coverage – FOS Media