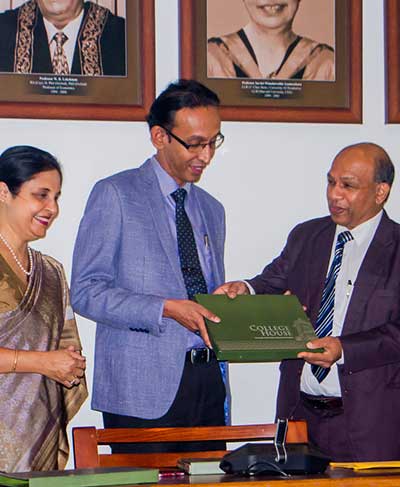 The launching ceremony of the Coffee Table Book College House
The launching ceremony of the Coffee Table Book College House – the Cradle of Sri Lanka's University Education edited by Professor Sandagomi Coperahewa and Dr. Shravika Amarasekara was held on Saturday, 9th April 2022 at 3.00 pm at Senate Hall, College House, University of Colombo. The launch of this volume also marked the declaration of College House as a 'protected monument' by the Department of Archaeology. The Vice Chancellor Senior Professor Chandriak N. Wijeyaratne, the members of the Council, Deans of the faculties, Senior Professor Anura Manatunga, Director General Archaeology Co-editor of the volume Professor Sandagomi Coperahewa, academics and administrative heads of the university and members of the De Soysa family participated at this meeting.
This illustrated volume seeks to bring forth the facts and other rare photos related to the history and architecture of this heritage building. It charts the journey of this historical building from a family home to its present state as the heart of the University of Colombo. College House is the oldest university building in this country with historical links to the first University College (1921) and then to the University of Ceylon (1942). Formal education in the Arts and Science began with the establishment of the Ceylon University College in 1921 in the premises then known as Regina Walawwa, which Arthur de Soysa built in honour of his wife Regina (who died before the house was completed) and later sold to the Government of Ceylon in 1920.
Image and video courtesy FOS Media: More Images | Live recorded video
---
Sunday Times: Coffee table book on University of Colombo's College House debuts