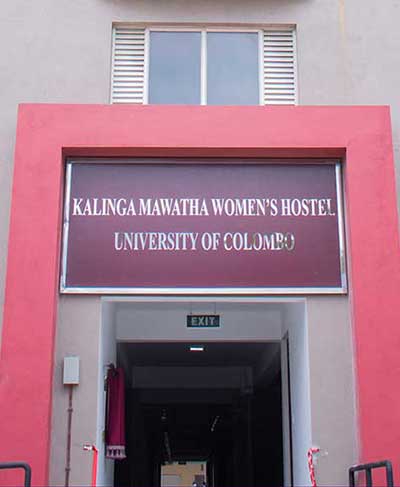 Opening Ceremony of the Kalinga Mawatha Women's Hostel
The University of Colombo (UoC) is the only metropolitan university in Sri Lanka and the pioneer higher educational institution in the country, spanning more than hundred years of recorded history. The UoC has produced world renowned professionals and intellectuals from its inception. At present, the student population is more than 30,000 with preparations made to enroll more undergraduate and postgraduate students.
The paramount factors of the many achievements, both locally and globally, are the tireless efforts of every stakeholder including academic & administrative staff, alumni, well-wishers, and students with the continuous support from the Government systems through the line Ministry and University Grant Commission (UGC).
However, the UoC has been facing a lack of hostel facilities for eligible students. This issue was further exacerbated by the national policy to increase student intake. The University of Colombo, as the number one University in Sri Lanka, is trying its level best to provide quality education by adhering to the national policy in higher education while maintaining standards and improving its position in the international university ranking. It is very important to provide basic facilities to students, including hostels, to achieve our goals. As the sole state funded Metropolitan University, we seek the assistance of all sectors to overcome the inadequacies in "hostel facilities". In these circumstances, the Urban Development Authority (UDA) had to acquire the Muttiah girls' hostel and in return handed over a brand new condominium of 140 apartments situated at no 44, Kalinga Mawatha, Polhengoda Road, Colombo 0005, to provide hostel facilities to our students.
This 12 storied condominium, under the Urban Development Authority, which was built by MAGA constructions, was vested with the University of Colombo at a Ceremony presided over by Honorable Mahinda Rajapaksa, Prime Minister of the Democratic Republic of Sri Lanka on 15th December 2021. As such, the University of Colombo is the first university in the history of state universities, to be granted a condominium to be used as a student hostel.
This hostel building is secured by a parapet wall with safe access from the Open University side. It comprises 140 furnished apartments and the ground floor is favourably modified for students with disabilities with washroom facilities. Each apartment contains two bedrooms, a study/lobby area, a pantry, a washroom, and a balcony that can accommodate 4 female students. All the apartments are adorned with curtains and provided with many amenities. Common areas for studying, recreation with a TV lounge and a Community Centre are available, with the latter currently being modified to function as a Cafeteria. The university has planned to introduce new managerial processes to maintain the hostel, ensuring maximum well-being of the students. This condominium named "Kalinga Mawatha Women's Hostel" was declared open on 9th April 2022 by Professor Chandrika N Wijeyaratne, the Vice Chancellor of the University of Colombo. Academic and administrative staff and students participated in the event.
Image courtesy: Fos Media
---