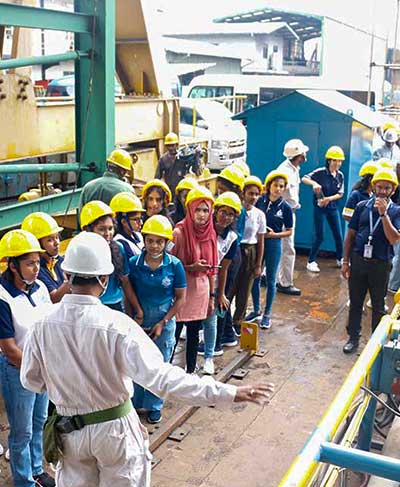 Navigating Success: JICA Chair Program Field Visit to Colombo Dockyard PLC
An exciting educational field visit to the Colombo Dockyard PLC was organized by the JICA Chair Program 2023/2024 on October 19, 2023. Colombo Dockyard PLC is a world-class shipbuilder in South Asia possessing a principal equity alliance with Onomichi Dockyard Company Ltd of Japan. The field visit was a splendid opportunity for the registered undergraduate students of the JICA Chair Program to relate to Japanese management styles and practices adopted in a real-world business setting. Forty students from the Department of International Relations and Economics at the Faculty of Arts and the Departments of Business Economics and International Business at the Faculty of Management and Finance joined this immersive field trip along with academic and non-academic staff members.
The day of the visit commenced with a warm welcome from Mr Thimira Godakumbura, the Managing Director and Chief Executive Officer of Dockyard PLC. This was followed by a brief introduction by Ms Yuri Ide on the JICA Chair Program's objectives. Mr Kosala Puhulwella provided insights into Dockyard PLC's company profile. The highlight of the visit was the speech delivered by Mr Hideaki Tanaka, Chairman of Colombo Dockyard PLC. He shared invaluable insights on 'Leadership During Turbulent Times' leaving students and staff inspired and motivated.
The most captivating part of the day came when students and staff were guided to Dockyard PLC's mechanical workshops. Here, they witnessed the intricacies of welding and the operation of state-of-the-art machinery used for shaping metal plates for ship construction. Students had the privilege of observing two tankers undergoing repairs, a fully built hybrid ship, and a ship in its early stages of construction. Following the tour, students were given the opportunity to ask questions to both the Managing Director and the Chairman. The queries ranged from the sourcing of raw materials to differences in Japanese and Sri Lankan management styles. Leaving the confines of a classroom to explore a company like Colombo Dockyard PLC was truly a fascinating experience for these students.
Media Courtesy: Colombo Dockyard PLC