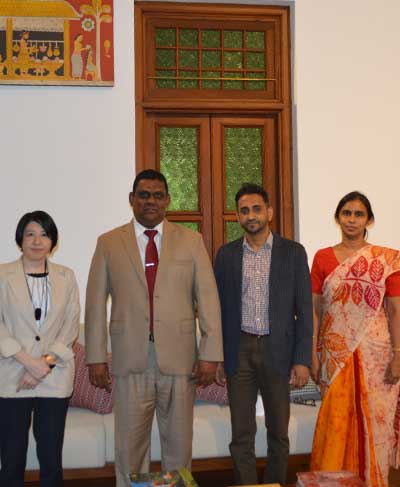 University of Colombo's JICA Chair Program 2022
Intending to nurture future leaders of developing countries, the Japanese International Cooperation Agency (JICA) has initiated a program titled "JICA Chair", focusing on Japanese studies in collaboration with leading universities in partner countries. The Program explores Japan's modernization and development cooperation experiences in light of its historical and cultural background. Activities of the JICA Chair include short intensive lectures conducted by lecturers dispatched from Japan on Japan's development experiences in politics, economics, public administration, law and others.
The University of Colombo is proud to be a part of the JICA Chair Program this year. The Faculties of Arts and Management and Finance take the lead together with the International Office in organizing a lecture series on Japanese Modernization with the help of JICA representatives. The target audience will be undergraduates from the Departments of Economics and International Relations of the Faculty of Arts and Departments of Business Economics and International Business of the Faculty of Management and Finance. The lectures will be conducted by resource persons from Japan and Sri Lanka using online and onsite modes. The topics covered during the lecture series are as follows:
Meiji Revolution: Start of Full-scale Modernization
Japan after World War II
Economic Growth and Japanese Management
Educational Development in Modernization
A Japanese Approach to International Cooperation
Modernization of Japan's Administrative System
Development of Industries and Industrial Policy
The Road to a Nation of Science and Technology
Representatives from the JICA Sri Lanka Office, Mr Indika Cabral and Ms Ito Yukiko, visited the Vice Chancellor Senior Professor (Chair) H.D. Karunaratne on September 27, 2022, for a meeting to organize the JICA Chair Program held with the partnership of the University of Colombo. Professor Chandana Aluthge, Head, Department of Economics, Professor Chaminda Padmakumara, Head, Department of International Relations, Dr Sajitha Dishanka, Head, Department of International Business, Dr A. M.C.P. Atapattu, Former Head, Department of Business Economics and Dr Sashika Manoratne, Director, International Office were also present. JICA Chair Program at the University of Colombo is scheduled to commence on October 20, 2022, with the first lecture, "Meiji Revolution", at 4 p.m. at the Faculty of Graduate Studies (FGS) Auditorium.