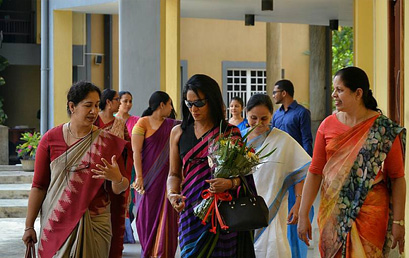 International Women's Day- 2018
The International Women's Day 2018 celebration organized by the Department of Private and Comparative Law, Faculty of Law, University of Colombo was held on 8th March 2018 at Western Province Aesthetic Centre, under the theme  "Equality for Women: Press for Progress".
The objective of the event was to create awareness among the undergraduates on gender justice and to promote the idea of equal access and equal opportunities for men and women. This endeavour also promoted the students to present reforms for laws that discriminate against women Hon. Justice Shiranee Tilakawardena, Former Justice of the Supreme Court of Sri Lanka participated as the chief guest and delivered the Keynote address.
The best presentation from each medium made their presentations before a distinguished panel comprising of Ms. Shyamala Gomez, Country Director, FOKUS Women, Ms. KumariLiyanage, President, Labour Tribunal, Ms. Hasanah CeguIsadeen, attorney-at-Law.
The event provided a stage for students to showcase their talents and a learning opportunity deviated from the conventional lecture-based environment. The winning teams were awarded with medals and certificates the event was concluded with a Drama which scripted, directed and acted by students of the Faculty of Law.