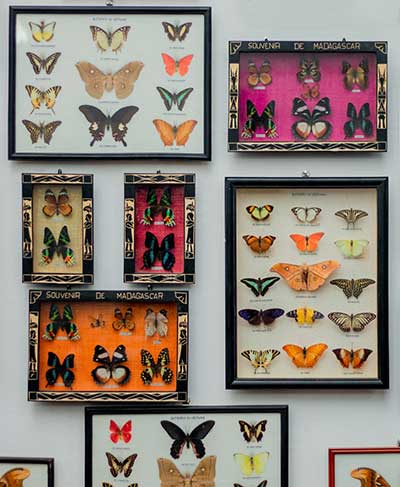 Inauguration of the Zoological Museum: A treasure trove of natural history artifacts
The 18th of May 2023, International Museum Day, was a special day for the Department of Zoology and Environment Sciences, as it marked the inauguration of the Zoological Museum. Comprising a wealth of natural history specimens collected over a century, the Zoological Museum of the University of Colombo is no doubt one of its kind in the entire university system of Sri Lanka. Specimens include a diverse array of local and exotic species, from rhinos to whales, seabirds to ostriches, and salamanders to turtles. The invertebrate collection is as impressive and includes a colourful range of butterflies and moths, corals, and molluscs, among others. The museum is housed in a building over a century old, and which has a colonial appeal enhancing the value of the treasures it holds.
The Head of the Department of Zoology and Environment Sciences, Senior Professor Devaka Weerakone formally welcomed all present. Professor Sampath Seneviratne, Director of the Zoological Museum, elaborated on the functions and future aspirations of the Zoological Museum. He also acknowledged the support of the museum management committee and that of many others who contributed towards the yeomen task of preparing the museum. The day also marked the commencement of the collaborative partnership between the University of Colombo and the Wildlife & Nature Protection Society of Sri Lanka (WNPS), on the Zoological Museum of the University of Colombo. A plaque was unveiled by the Dean of the Faculty of Science, and the President of the WNPS, Mr. Jehan Chanagaratne, to symbolize this partnership. Another key activity was the launching of a website specially designed to increase the visibility of the museum and to facilitate its functions. Mr. Isuru Bhathiya Wickramasinghe an undergraduate of the faculty was adjudged the winner of the competition for designing a logo for the Zoological Museum which was organized by Base for Enthusiasts of Environmental Science and Zoology (BEEZ). The certificate and cash prize were handed over to the winner by Mr. Amal Dissanayake, consultant of DIMO. The occasion was also graced by many former senior academics, present academic and non-academic staff members, temporary academics, and both undergraduate and postgraduate students. The session ended with tea and fellowship. It is hoped that this Zoological Museum with its invaluable collection will not only aid in teaching and research of university students but also kindle the interests of many nature enthusiasts across the country.
Media Courtesy: FOS Media