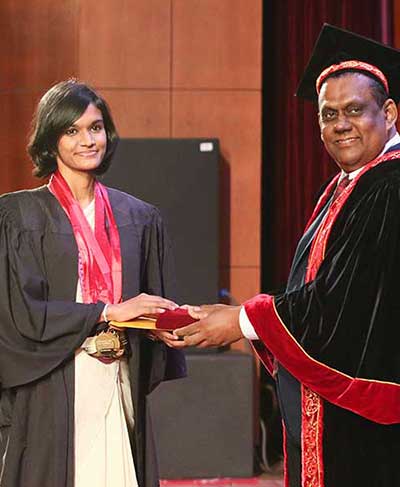 Prof. Tilak Hettiarachchy Award for Academic Excellence – General Convocation 2021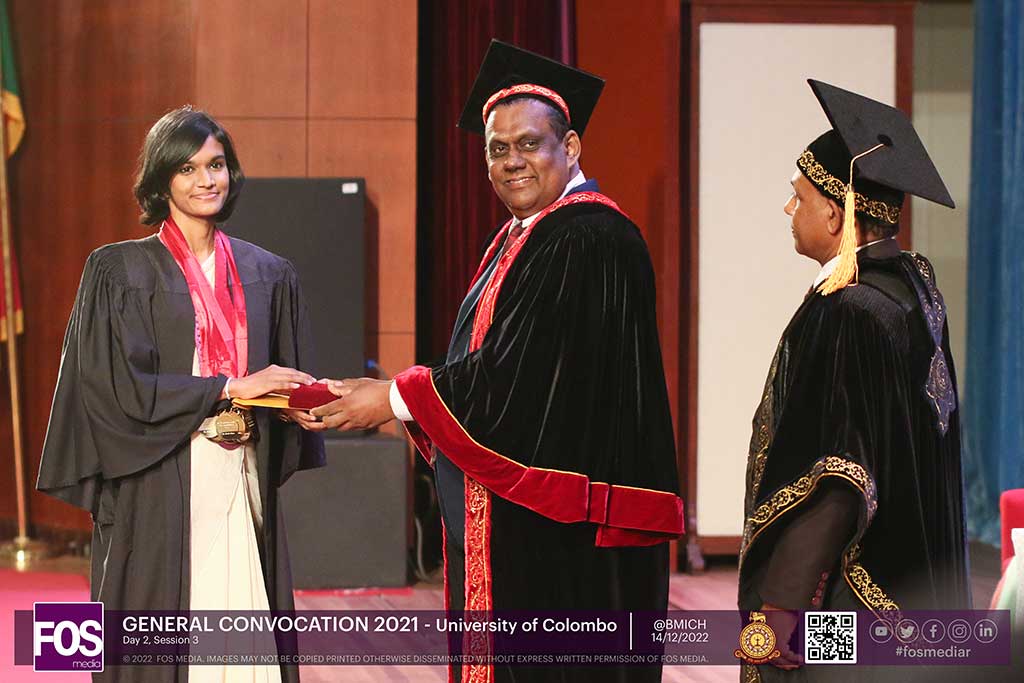 Ms Hannagala Gamage Hiruni Udara – Faculty of Medicine
University of Colombo congratulates Ms Hannagala Gamage Hiruni Udara (MFC/AL/2014/0570), Faculty of Medicine on receiving the Open Awards – Prof. Tilak Hettiarachchy Award for Academic Excellence at the General Convocation 2021.
Ms Hiruni hailing from Sujatha Vidyalaya, Matara entered the Faculty of Medicine having being placed 1st on the island at the first attempt in the advanced level examination. She graduated MBBS with First Class honours. She obtained First Classes in the Basic Sciences Stream, the Applied Sciences Stream, the Clinical Sciences Stream, the Community stream and the Behavioral Sciences Stream. She obtained 10 distinctions in Anatomy, Physiology, Biochemistry, Pharmacology, Microbiology, Parasitology, Pediatrics, Surgery, Psychiatry and Obstetrics & Gynecology. She obtained 12 gold medals and prizes including the Chalmers Gold Medal for Anatomy, Professor K.N. Seneviratne Memorial Gold Medal for Physiology, Vythialingam Sivalingam Gold Medal and Scholarship in Parasitology, Wilson Illangakoon Gold Medal in Clinical Psychiatry, Maneckbai Dadabhoy Gold Medal for Midwifery, The Naomi Thiagarajah Prize for Midwifery, Ranasinghe Memorial Prize for Reproductive Health, Dr Alaric Jayasinghe Memorial Gold Medal in Paediatrics, Dr MN Burhan Gold Medal for Surgery, Sir Andrew Caldecott Gold Medal for Final MBBS, Joseph Nalliah Arumugam Memorial Award for Final MBBS and Sumanawathie de Costa Jubilee Award for the Best Student. She was ranked 2nd in the final common merit list out of 1060 medical graduates in the country and is currently undergoing internship training at the National Hospital in Colombo.
Ms Hiruni also engaged in research. Her research was presented at the Colombo Medical Congress in 2020, the Indian Rheumatology Association Congress in Indore in India in 2022 and the 24th Asia-Pacific League of Associations for Rheumatology Congress in Hong Kong in 2022. She was a member of the Faculty of Medicine team that emerged as the 2nd runners up in the Global University Medical Challenge in Malaysia in 2018. She has been awarded Faculty colors in Badminton. She has taken up leadership roles in student organizations at the faculty level and has also contributed to musical and other aesthetic activities in the faculty.