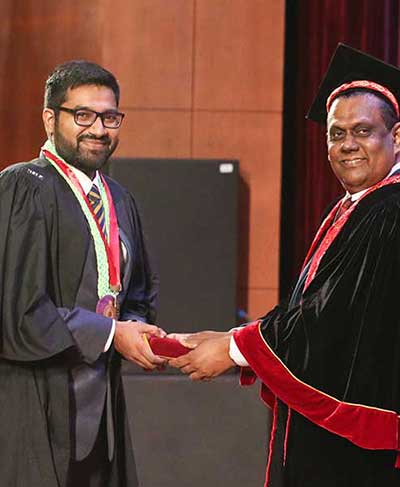 Canekeratne Prize for General Merit – General Convocation 2021
University of Colombo congratulates Mr Charuka Hatharasinghe (2017/MS/7600), Faculty of Management & Finance on receiving the Open Awards – Canekeratne Prize for General Merit at the General Convocation 2021.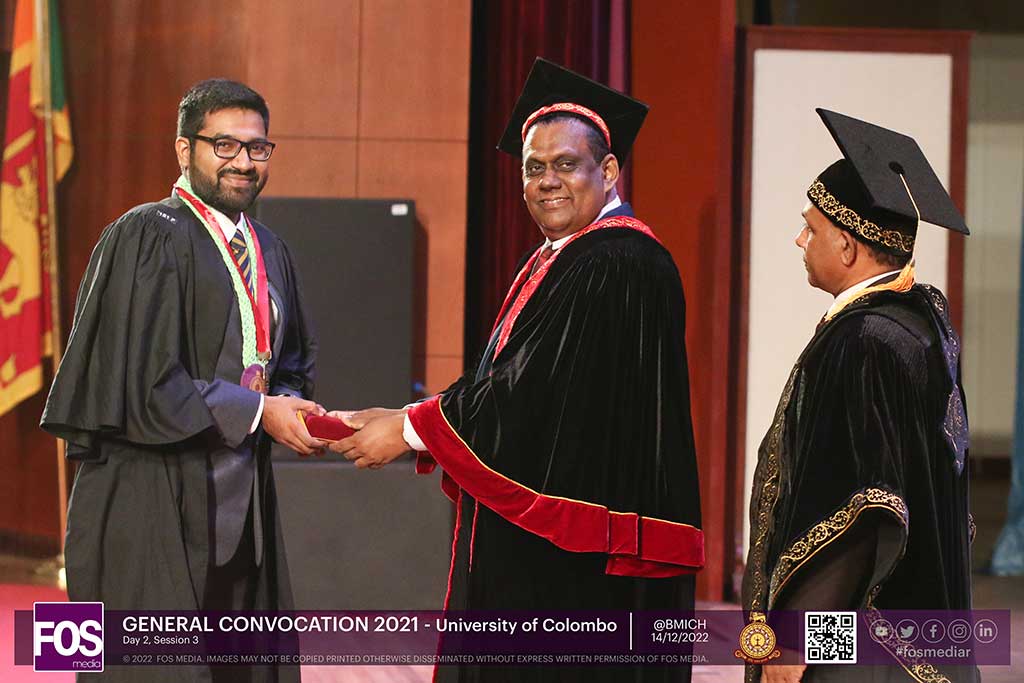 Mr Charuka Hatharasinghe – Faculty of Management & Finance
Mr Charuka Hatharasinghe is a multi-faceted individual who excelled in many arenas including academics, sports, leadership, and cultural activities. Mr Charuka schooled at Royal College, Colombo 07 and entered the Faculty of Management and Finance, University of Colombo in 2018. He completed his bachelor's (Honours) degree in Finance with a First Class Honours, obtaining a GPA of 3.82. His undergraduate research was published in the conference proceedings of the International Research Conference on Management and Finance 2022. During his time at the University, he represented the University Cricket team, Badminton team and Swimming team. He vice-captained and captained the University Badminton team in 2019 & 2020 respectively and represented the Badminton team who won the 2nd runner-up at the Inter-University Games in 2018.
Mr Hatharasinghe was part of the University Cricket team that emerged as Champions of the Inter-University Cricket Championship in 2018. He also played for the University team at the National Division III Cricket Tournament in 2018 and 2019. He represented the University Swimming team, who became the Overall runner-up at the Inter-University Games and SLUG in 2018 and 2019 respectively. Due to his unparalleled commitment and outstanding performance in the above 3 sports, he was consecutively awarded the University Colours in Badminton and Cricket and University merits in Swimming for the years 2018 and 2019. He was also awarded the 'Best Fielder' in Cricket for the year 2019 for showcasing exceptional fielding skills. In addition, he represented the University of Colombo at the finals of 'The CFA research challenge 2020' hosted by the CFA society of Sri Lanka. He was also an active member of the Amalgamated club, Leo club and Rotaract club of the University of Colombo during his University life. Mr Charuka currently works at Acuity Knowledge Partners and is a passed finalist in the "Corporate stage" of CASL and reading for the general MBA at the Postgraduate Institute of Management.