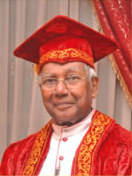 General Convocation 2018 – Message from the Chancellor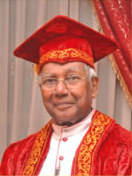 Maintaining the highest traditions of university education, the University of Colombo has produced another batch of students who will be released at the Convocation in July this year. Qualified in different fields of knowledge, these young men and women will enter the wider society to serve the nation and its people.
The University of Colombo today has the unique privilege of being the only university in Sri Lanka to be listed among the best one thousand universities in the world. Thus we realize the responsibility that devolves on us to maintain, and further improve, the quality of our education. That covers not only the standards of knowledge and sciences but also of the overall formation of our graduates.
Thus it has always been our endeavour to produce men and women of initiative, integrity and ability dedicated to serve the country and its people in keeping with our vision "to be a center of global excellence in education, research and a stakeholder engaged to enrich human potential for the betterment of society." We are happy to witness a large batch of our graduates step out into the world. I congratulate them and wish them every success in life.
Oswald Gomis
Emeritus Archbishop of Colombo
Chancellor