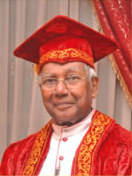 General Convocation 2017 – Message from the Chancellor
The University of Colombo, the prestigious oldest university in Sri Lanka, will be gifting the nation with another near three thousand learned men and women once again this year. With great dedication the staff of the University makes this presentation handling some of the best candidates in the country. The management of a university is no easy task. However, with the initiative, drive, force, integrity and ability of the Vice Chancellor and the dedicated members of the staff, Colombo continues with dignity and honour.
The University of Colombo has always visualized being "a centre of excellence of global presence in research, teaching, learning and engagement in the knowledge society." Sri Lanka could be happy that every effort is being made to realize this vision as our products would testify.
No doubt, this is with a high degree of dedication and sacrifice. With many difficulties that have crossed the path, what has been achieved is highly commendable. The Graduates this year symbolize multi-disciplinary knowledge and high quality human competencies.
While I thank the Vice Chancellor and the staff for their dedicated work, I wish the passing out Graduates every success in their future undertakings.
Oswald Gomis
Archbishop Emeritus of Colombo
Chancellor