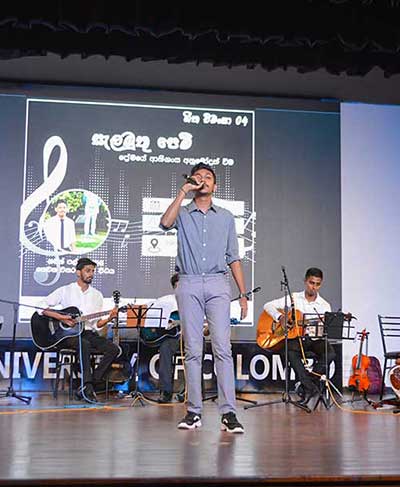 'Geetha Wimansa' | ගීත විමංසා
The Art Council of the University always engages in activities in shaping students with balanced personalities by minimizing stress and personal problems through various arts & cultural programs. Art Council is currently engaged in a program series 'Geetha Wimansa' to have a critical discussion on the social politics of songs. The key objective of this program is to promote the analysis of literature and performing arts based on the critical discourse of songs and poems. The songs of particular songwriters are taken for discussion in this program as a kind of art therapy for students who experience various issues and challenges in their university life. Students themselves are engaged in the activities of the program including singing selected songs of a songwriter, compering and other activities. Art Council has conducted four Geetha Wimansa programs with four respective songwriters, Wasantha Kumara Kobawaka, Kularathna Ariyawansa, Nilar N. Caseem and Rathna Sri Wijesingher.
The fourth Geetha Wimansa focused on the pros and cons of a romantic relationship for youth and was held at the New Arts Theatre in collaboration with the Faculty of Law on the 14th of February 2023. Ten songs composed by Dr Rathna Sri Wijesinghe were selected for this program and they were sung by undergraduate students of the Faculty of Law. Dr Wijesinghe made a classic explanation of all songs with their literary meaning and historical context. The Vice Chancellor Senior Professor (Chair) H.D. Karunaratne, Professor Mohamed Mahees, the President of the Art Council, Professor Sampath Punchihewa, the Dean of the Faculty of Law and many other academics were present on this occasion.