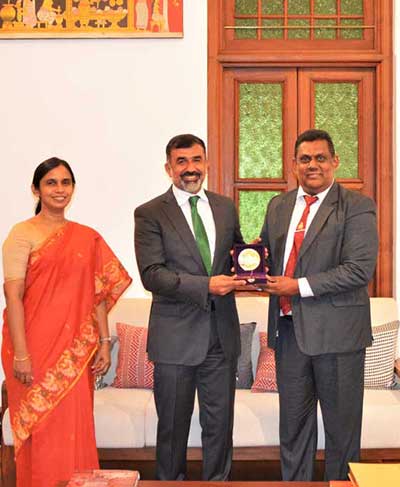 Ambassador of UAE and UOC Discuss Enhancing Academic Cooperation
H.E. Khaled Nasser AlAmeri, the ambassador of the UAE to Sri Lanka visited the University of Colombo and had a discussion with the Vice Chancellor, Senior Professor (Chair) H.D. Karunaratne, at the College House on August 24, 2023. The purpose of the ambassador's visit was to strengthen the academic cooperation between the University of Colombo and UAE universities including both public and private. H.E. AlAmeri underscored the partnering possibilities in the fields of multidisciplinary joint research, student/staff exchange and capacity building related to graduate study programmes.
Among the UAE universities, the ambassador underscored the UAE University located in Al Ain, Abu Dhabi to have a greater potential to collaborate with the University of Colombo. The Vice-Chancellor informed H.E. that the University of Colombo already has close ties with the UAE University through the Asian Universities Alliance (AUA) where both institutions are members. The potential areas for further collaboration between the two institutions include technology-related fields such as Artificial Intelligence, the Internet of Things, and Machine Learning. Climate Change-related graduate study programmes, conferences and joint research were also highlighted by H.E. as priority areas in the two institutions that could synergize with each other.
Moreover, H.E. AlAmeri stated that Khalifa University, a public research university situated in Abu Dhabi pioneering in water technology, clean and renewable energy including nuclear energy will be a promising partner. The faculties of science and technology at the University of Colombo will have many possibilities for exploring a new partnership with Khalifa University to pursue the given fields. The International Office of the University will facilitate these partnerships with the respective faculties in due course.