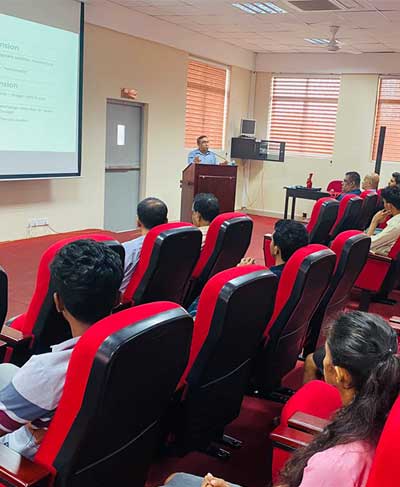 ECONOMIC DIALOGS Phase 1.0: A knowledge sharing session
ECONOMIC DIALOGS – Phase 1.0 is the first phase of a series of knowledge-sharing sessions organized by the Research Hub of the students' association of the Department of Business Economics, Faculty of Management and Finance. ECONOMIC DIALOGS – Phase 1.0 focused on the theme of 'Domestic Debt Restructuring & the Future of the Sri Lankan Economy,' with the aim of providing constructive criticism on the proposed domestic debt optimization model and its impact on the Sri Lankan economy.
With great pride and honour, Senior Professor (Chair) H.D. Karunaratne, the Vice-Chancellor of the University, enlightened the event as the chief guest. At the invitation of the Research Hub, Professor M.P.P. Dharmadasa, the Dean of the Faculty of Management and Finance, participated in the session, making the event more glamorous. The guest speech was successfully delivered by a renowned economist in Sri Lanka, Senior Professor Sirimal Abeyratne, the former head of the Department of Economics, Faculty of Arts, as the resource person.
The event was held on the 29th of August 2023 at the Faculty of Management and Finance premises, and the program was attended by around 100 participants representing undergraduates and lecturers of the University, as well as external parties interested in the current debt restructuring process in Sri Lanka. The Research Hub of the Department thanks all university members who supported it, and the Department of Government Information in Sri Lanka for covering the role of news reporting related to this event.