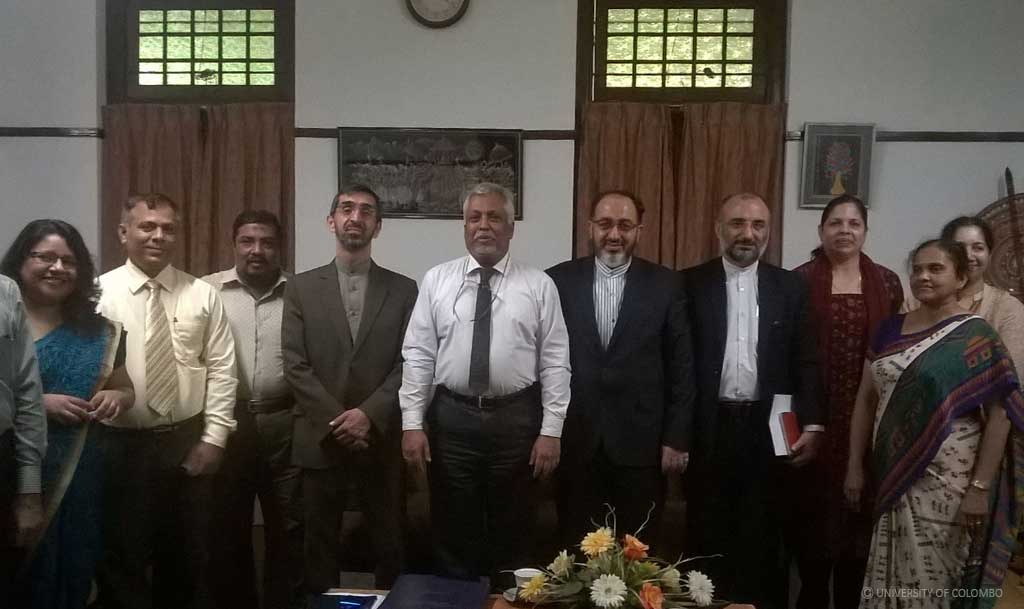 The Cultural Counsellor of Islamic Republic of Iran visited University of Colombo
His Excellency Mr.Mohammad Oraee Karimi, Cultural Counsellor of the Islamic Republic of Iran visited Professor Lakshman Dissanayake, the Vice-Chancellor University of Colombo on 1st March at the Vice Chancellor's Office. Mr. Karimi was accompanied by Mr. Hojatoleslam Hakim Elahi, Vice President of Communications and International of the Al Mustafa University of Iran, and Mr. Kazemi the head of Mostafa College of Humanities Studies in Colombo for the meeting. During the discussions, Professor Lakshman Dissanayake pointed out the long term friendship between Sri Lanka and Iran and express his sincere willingness to collaborate with Universities of Iran. His Excellency Mr. Karimi and the Cultural Center of the Islamic Republic of Iran agreed to facilitate the future collaborations between University of Colombo and the Iranian Universities.
Dr. Ranjan Hettiarachchi, Rector, Sri Palee Campus, Prof. Lasantha Manawadu, Acting Dean, Faculty of Arts, Ms. W. I. Nanayakkara, Dean Faculty of Law, Dr. S. Segarajasingham, Head, Department of Commercial Law, Ms. Rose Wijesekara, Head, Department of  Department of Private & Comparative Law, Ms. S.S.M.W. Senevirathne, Head, Department of  Public and International Law, Dr. Maneesha Pasqual, Head, Department of International Relations, Dr. Zabir, Dr. Gaffour Islamic Civilization Unit, Faculty of Arts and Dr. Sampath Seneviratne, Director, International Unit, also participated at the meeting.