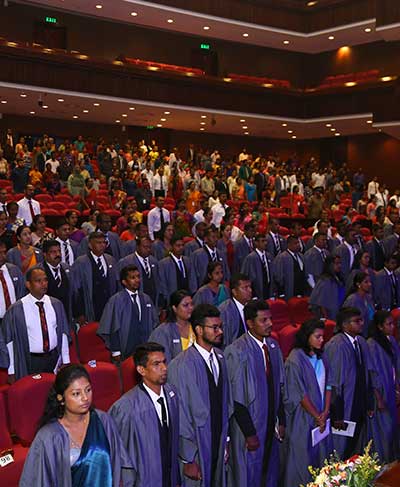 CSHR Awards Ceremony 2023: Celebrating Excellence and Achievements
The Centre for the Study of Human Rights (CSHR) proudly hosted the Awards Ceremony 2023 at the Nelum Pokuna Mahinda Rajapaksa Theatre, under the patronage of the Vice Chancellor, Senior Professor (Chair) H.D. Karunaratne on June 6, 2023. The ceremony was graced by esteemed guests, including Retired Justice Rohini Marasinghe, the Chairperson of the Human Rights Commission of Sri Lanka as the Chief Guest; Dr Prathiba Mahanamahewa, the Rector of the Sri Palee Campus; Professor Nishantha Sampath Punchihewa, the Dean of the Faculty of Law; Mr K A S Edward, the Registrar of the University; Mrs HMD Sajeewanie D Somaratna, the acting Librarian of the University; Professor (Chair) Wasantha Seneviratne, the Director of CSHR; Mr M A M Hakeem, the Deputy Director of CSHR. as well as other academics, professionals, and distinguished invitees from the University.
It was a moment of great pride for CSHR as they awarded over 350 awards, including Diplomas, Training Programs, Advanced Certificates, and Certificates. Notably, a total of 178 Diplomas were conferred. Among the recipients, 62 exceptional students achieved Distinctions, while 86 students received Merits. Furthermore, 78 officers from the Department of Probation and Child Care Services were acknowledged and presented with certificates as Trainers of Trainers on Childcare and Rights. CSHR also expressed their heartfelt appreciation to the interns who successfully completed their internships. Additionally, certificates were awarded to the winners and participants of the Photography competition, which was held in commemoration of the 30th Anniversary of CSHR.