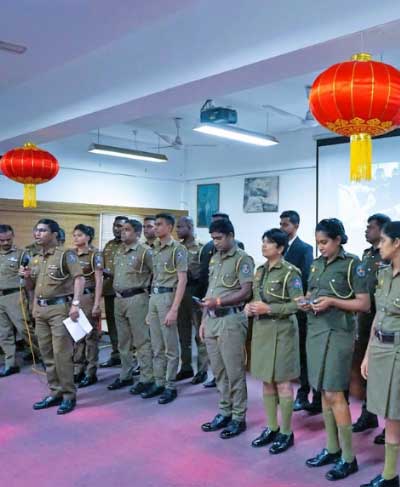 Certificate Awarding Ceremony of Vocational Chinese Language Program for Sri Lanka Police
The Certificate Awarding Ceremony for Vocational Chinese Language Program for Sri Lanka Police conducted by the Confucius Institute was held on 3rd November 2022, successfully. The Vice Chancellor Senior Professor (Chair) H.D. Karunaratne, the Dean of the Faculty of Arts, Senior Professor Lasantha Manawadu, Counsellor Chinese Embassy Mr Wang Keqi , Deputy Inspector General of Police Sanjeewa Medawatte, Sri Lanka Director of CIUC Professor Wimal Hewamanage, Dean-Faculty of Education Dr Kapila Bandara and the Heads of various departments participated in this great event.
Though these students learnt short period, they showed their talents and skills with marvelous performances. All the dedicated efforts of Lecturer Asela Prabath with CIUC staff and the students were appreciated by all the heads. On this occasion, CIUC appreciated Ms D. K. C. Mahakumarage's and Mr Asela Prabath's technical and academic support respectively. There was also a book donation to the Confucius Institute from the Chinese Embassy in Sri Lanka. The Police Academy immensely appreciated the improvement of the Chinese language knowledge of the students and requested them to improve their knowledge furthermore.