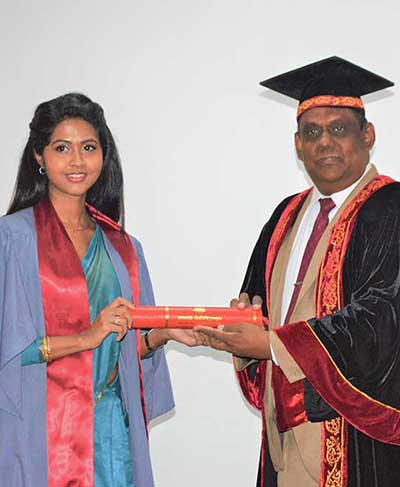 Certificate Awarding Ceremony 2023: Faculty of Management and Finance
The Certificate Awarding Ceremony for the Executive Diploma in Business Administration (EDBA) Programme and the Higher Diploma in Entrepreneurship and Small Business Management (HDESBM) Programme was held on February 16, 2023, at the Jayaratne Hall of the Faculty of Management and Finance. The event was graced by Senior Professor (Chair) H.D. Karunaratne, the Vice Chancellor of the University, Professor M.P.P. Dharmadasa, the Dean of the Faculty, and other academic and administrative staff members. A total of 58 diploma holders received their diplomas during the ceremony. The gold medals were awarded to students who demonstrated excellent academic performance.
Ms J.A.D.H.N. Jayasuriya was awarded the Asokan Anandarajan Prize for Best Performance in the EDBA programme, while Mr W.N.P. Rajapakshe received the 1990 MBA Graduate Award II for Executive Report on General Management in the EDBA programme.