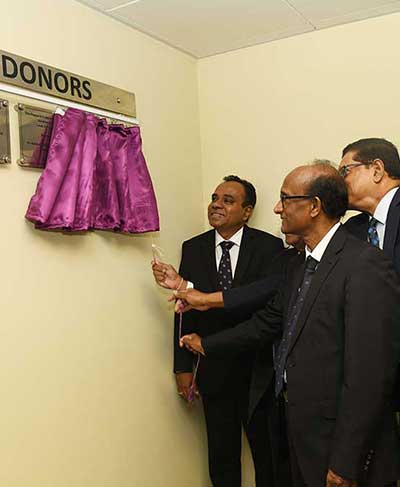 The Batch of 1973 Enhances UCFM Tower's 2nd Floor with Modern Design
The 2nd floor of the UCFM Tower has been furnished with a modern aesthetic by the Batch of 1973 of the Faculty of Medicine. This demonstrates their unwavering support for the faculty, serving as an expression of gratitude towards their teachers and alma mater. The handing over ceremony took place on 18th June 2023 with the participation of the members and the organizing committee of the Batch of 1973, Dr Rohana Haththotuwa, Professor Mohan De Silva, and Dr Nimal Gunaratne, and some of the teachers from the 1973 batch.
Senior Professor (Chair) H.D. Karunaratne, the Vice Chancellor of the University, Professor Vidya Jothi Vajira HW Dissanayake, the Dean of the Faculty, Ms J.T.L Dharmasena, the Bursar of the University,  Mr H.M.W.G.P.R.A. Bandara, the Deputy Registrar of the Faculty, Mrs Nadeesha Perera, Senior Assistant Librarian, Professor Pujitha Wickramasinghe, the Chairman of the Budling Committee of the Faculty, Dr Anula Wijesundera, the Immediate Past President of the Colombo Medical School Alumni Association (CoMSAA), Professor Lamabadusuriya, the President of the COMSAA, Mr G.A.K.H. Haroon, the President of the Medical Faculty Students Union and the staff members of the university also participated in this occasion.