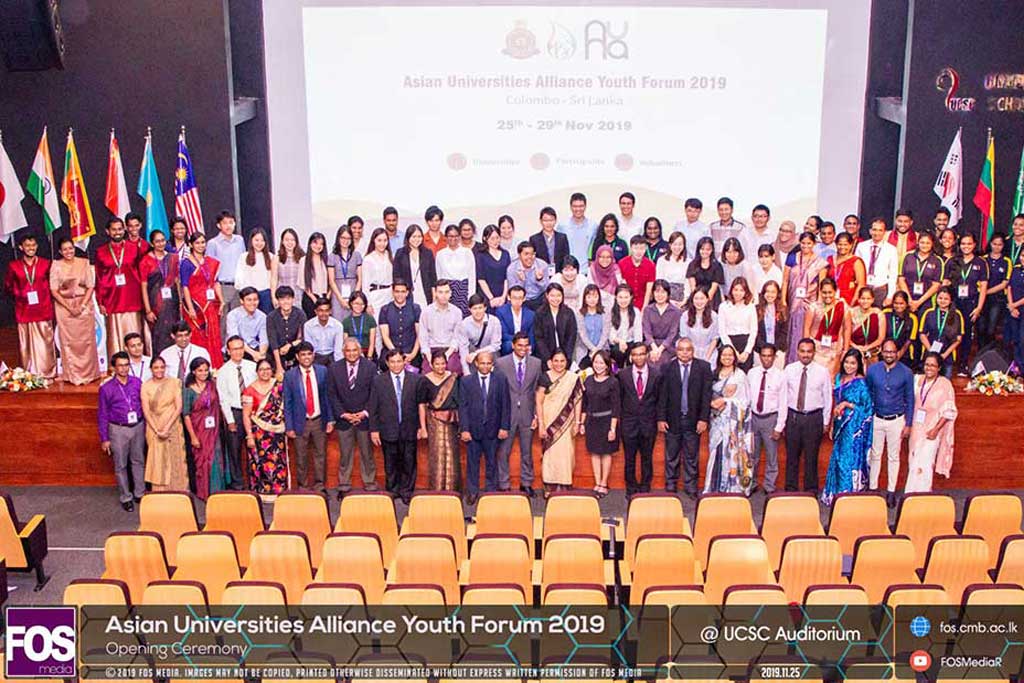 Asian Universities Alliance Youth Forum (AUAYF)
The University of Colombo (UOC) hosted Asian Universities Alliance Youth Forum (AUAYF) as one of the two major annual events of the consortium from 25th to 29th November 2019 under the theme "Wellbeing Beyond Health", in alignment with the Sustainable Development Goal 3, which was partnered with the World Health Organization (WHO). AUAYF 2019 was attended by 45 undergraduates from Chulalongkorn University (Thailand), Hong Kong University of Science and Technology, Nazarbayev University (Kazakhstan), Peking University and Tsinghua University (China), Seoul National University (South Korea), Universitas Indonesia, University of Malaya (Malaysia), University of Tokyo (Japan), University of Yangon (Myanmar) and University of Colombo. The organizing committee and resource persons included nearly 100 from UOC staff/ alumni with over 150 volunteer undergraduates from UOC.
The 5 day program addressed developmental issues in the region, enhanced youth empowerment, and promoted cultural and academic exchange. The activities included group work, drama, presentations, field visits, panel discussions, hands-on skill sessions focusing on how the Asian youth can take leadership to modify human behavioral risk factors (e.g. unhealthy diet, insufficient physical activity, harmful use of alcohol, use of tobacco and addictive substance, engage in risky behavior and reduced mental health) and their social, environmental and commercial determinants to prevent Non Communicable Diseases (NCDs). In addition, they enjoyed the Sri Lankan culture with traditional food, dance, music, art and sport in the field visit to Sri Palee campus UOC Horana. The participants presented 6 novel project based presentations on how to they can improve Health and Wellbeing of Asia which could be taken up by the policy to the next level. The AUAYF 2019 connected more than 300 international and local students initiating a network of change agents for the future.