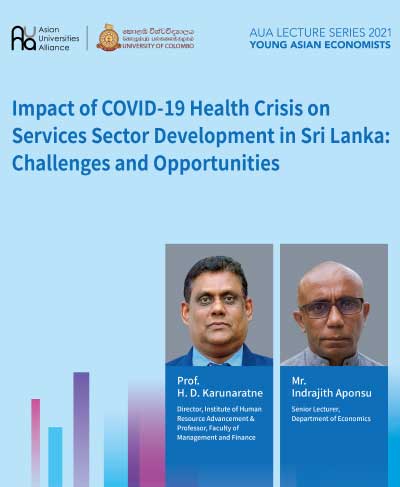 Asian Universities Alliance (AUA) Lecture Series 2021: The University of Colombo's Session
The University of Colombo hosted a session titled "The Impact of Covid 19 Health Crisis on Service Sector Development in Sri Lanka: Challenges and Opportunities" at the AUA Lecture Series 2021 for young Asian economists on 9th September 2021.
The session consisted of two parts. Session A: a virtual lecture on the abovestated title was conducted by Senior Professor H.D. Karunarathne, Chair Professor in Business Economics and Director, Institute of Human Resources Advancement (IHRA). The lecture underscored the country's socio-economic outlook, including the characteristics, root causes, outcomes, and opportunities posed by the pandemic, focusing on the services sector. Session B was a closed-door panel discussion led by Senior Professor H.D.Karunarathne and Mr Indrajith Aponsu, Senior Lecturer, Department of Economics, Faculty of Arts, based on the highlights of session A. The International Office and Network Operation Center organized the event joining hands with the Asian Universities Alliance Secretariat.