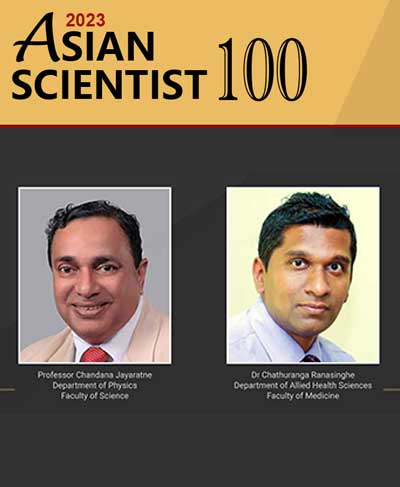 Asian Scientist 100 List Features University of Colombo's Exceptional Researchers
The University of Colombo is delighted to announce that two of its esteemed faculty members, Professor Chandana Jayaratne and Dr Chathuranga Ranasinghe, have been recognized and listed on the prestigious Asian Scientist 100 for the year 2023. This renowned list, compiled by the renowned science and technology magazine, Asian Scientist, showcases the accomplishments of the most outstanding researchers in Asia. Professor Chandana Jayaratne is the Head of the Department of Physics at the Faculty of Science, while Dr Chathuranga Ranasinghe serves as the Director of the Center for Sport and Exercise Medicine and holds the position of Senior Lecturer at the Department of Allied Health Sciences, Faculty of Medicine. Their inclusion in the Asian Scientist 100 list is a testament to their exceptional contributions to their respective fields of expertise.
The Asian Scientist 100 list celebrates the success of Asia's best and brightest researchers, highlighting their achievements across a wide range of scientific disciplines. To be recognized on this esteemed list, honorees must have received a national or international prize in the previous year for their research, or have made significant scientific discoveries or provided exceptional leadership in academia or industry.