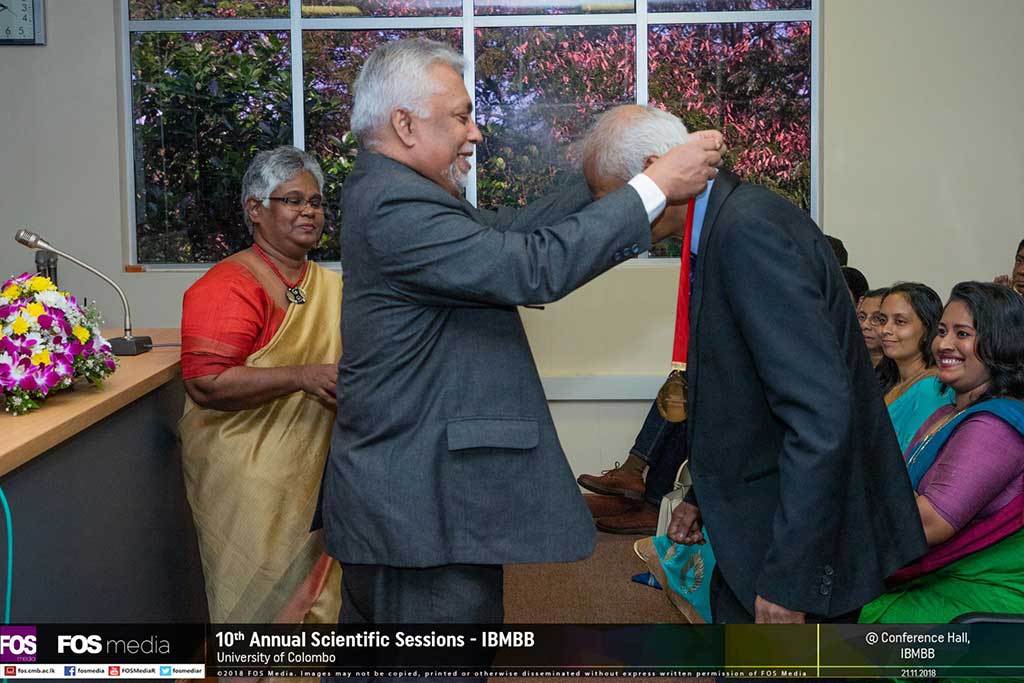 10th Annual Scientific Sessions of IBMBB
The Institute of Biochemistry, Molecular Biology and Biotechnology (IBMBB) Annual Scientific Sessions is the forum for dissemination of research findings of the IBMBB students plus it also includes research from postgraduate students from other Higher Educational Institutes. The Annual Sessions held also as an event to mark the IBMBB Anniversary.
10th Annual Research Session was held on 21st November 2018. Senior Professor Lakshman Dissanayake, the Vice-Chancellor of the University of Colombo was the Chief Guest for the event. Professor Shiroma Handunnetti, Director Institute of Biochemistry, Molecular Biology and Biotechnology & Professor in Immunology delivered welcome address followed by the address of the Vice-Chancellor.
Professor Stanley Wijesundera Memorial Lecture is one of the key events of the IBMBB Annual Scientific Secessions. This year, Professor Stanley Wijesundera Memorial lecture titled "Youth Violence" was delivered by Vidyajothi Professor Harendra De Silva, Emeritus Professor of Pediatrics, University of Colombo.
Dr. Mary Elizabeth McMillan, University of New England, Australia delivered a guest lecture titled "Comparing genetic and psychological factor in the development of anxiety and depression in prostate cancer patients". Ms. Irushi Tennekoon, a granddaughter of late Professor Stanley Wijesundera addressed the gathering at the inauguration ceremony on behalf of the Wijesundera family.
There were three Research Paper sessions, Session I: Molecular Biology and Genetics, Session II: Immunology and Infectious diseases and Session III: Medicinal Plants, Biotechnology and Bioinformatics, where 16 research papers were presented. In addition, there were 9 posters were included in the Poster Session. Each session was chaired by Senior Academics of the University and an award was given to the Best Research Paper/poster in each session with the sponsorship from the Wijesundera family. The oral and poster presentations highlighted the research conducted by the MSc, M.Phil and Ph.D. student of the IBMBB.
View more photos on Facebook