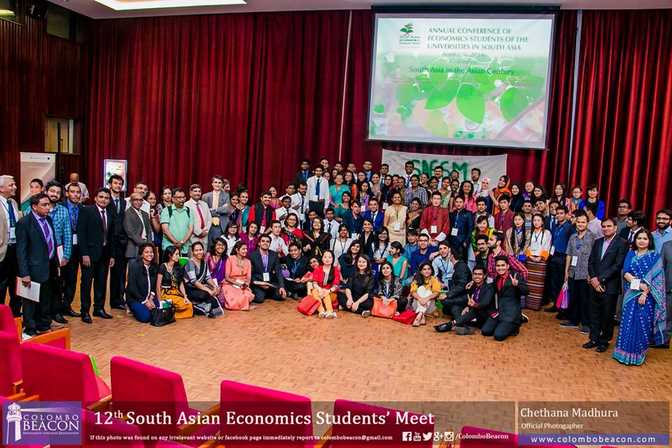 12th South Asian Economic Students' Meet (SAESM)
12th South Asian Economic Students' Meet (SAESM) hosted by the Department of Economics, University of Colombo was successfully held from 3-5 April at the BMICH. The event aimed at enhancing the academic and non-academic skills of the young economists in the South Asian region. The conference was attended by 76 foreign students from Afghanistan, Bangladesh, Bhutan, India, Nepal, and Pakistan along with their counterparts from Sri Lanka.
The Colombo SAESM was conducted under the theme of "South Asia in the Asian Century" with the objective of underscoring economic perspectives relating to the contemporary economic trends in the region. The event had research presentations conducted under six themes related to economics, quiz competition and the 'Budding Economist Competition' to identify the most outstanding young economist in South Asia.
The conference is organized by the undergraduate students with site guidance from faculty staff members. It will also feature a quiz competition and a competition for budding economists.
sponc